Brendan Rodgers rolled in to Melwood this afternoon to give his verdict on the summer transfer deals.
Liverpool added three more signings over the weekend, which they announced earlier today.
Tiago Ilori arrived from Sporting Lisbon, next up was £15M man Mamadou Sakho - the imposing French international defender from PSG, before a season long loan deal for Victor Moses was announced by the club.  Fabio Borini departs to Sunderland on a season loan, whilst out of favour Dani Pacheco made a permanent exit back home to Spain.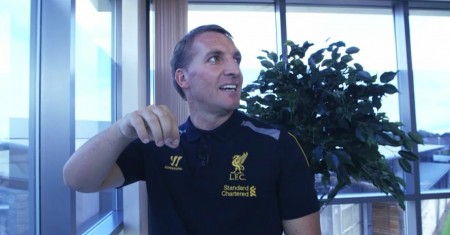 Rodgers declared himself pleased when speaking to the official website:
I'm obviously very pleased. The window this summer has been very productive for us. Sakho who we've brought in was probably a surprise for many people because he was highly rated at PSG and a French international player.

With the likes of him and Tiago Ilori, we've got one eye on now of course - you have to have a sense of the present and what we've got here are some really good centre-halves - but we're trying to build something here. Those two players, especially Sakho, can play in the team now, but we've got one eye on the future as well.
Rodgers also highlighted the important Victor Moses can play - and how he has seen first hand what the player can do:
We've got Victor Moses on loan and he's a young player that I've known from when he first came into the country. I had him train with me at Chelsea for a few weeks when I was a youth coach there. He was at Crystal Palace and we wanted to sign him at Chelsea, but he ended up staying at Palace, which was a good move for him because he played in the first team, did very well and then got a move to Wigan.
Sakho appeared to be the jewel in the crown and Rodgers was quick to thank the effort of the club in signing him:
I think it's a massive one. He is a player they were not wanting to lose, but he'd made it known he wasn't going to sign another contract and it's something that our people here at the club were very much on top of. It's great thanks to them, their hard work and perseverance that we were able to attract someone with that calibre.
Brendan Rodgers refused to be drawn on whether he was 100% happy with the size of the squad however, indicating Liverpool may have to do some more business in January.
We've certainly got more competition and as a manager you always want more, but we're more than happy with the business we've done. We've added freshness to the group. What we were looking to bring in was hunger - even though Kolo Toure is 32, he's very hungry to succeed. I'll be happy when the window shuts, to be honest, then we'll have all of our players - and we've done great business over the course of the summer - and we'll run with that until January and see where we're at then. I'm sure we'll look to strengthen again and finish off the second part of the season like we did last season.
Liverpool have spent approximately £45M on players and sold around £28M worth - giving a net transfer spend of approximately £17M.