Brendan Rodgers used last night's pre-match press conference to defend the under-fire Liverpool captain and deflect Jamie Carragher's criticism of his 'weak' team.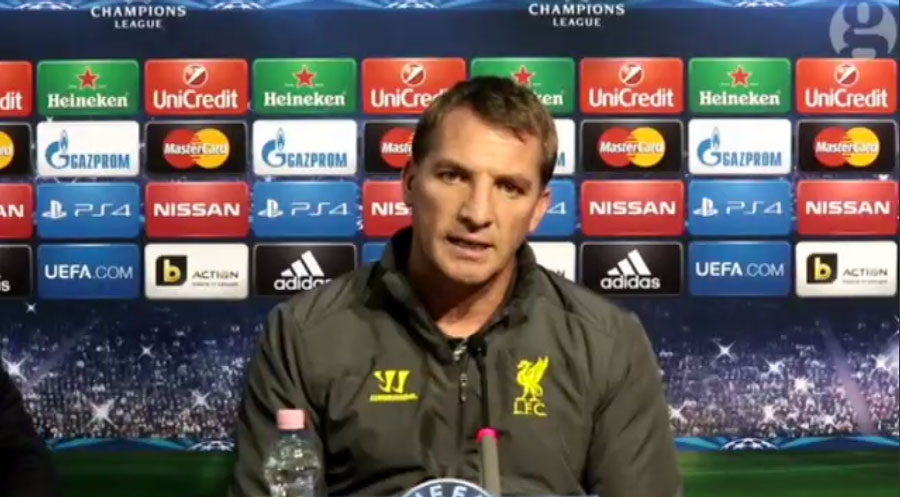 The reds have won just once in the last 7 games, and have lost the last 4 in all competitions.  The reds narrowly beat Ludogorets in the first game of the Champions League campaign to register their only points in this season's tournament.  Now they travel to Bulgaria knowing that they need a win to keep possible qualification in their own hands.
Rodgers backed his sides mental strength insisting that 'you couldn't question the team's character.' Many fans witnessing this seasons campaign may disagree.
"We hear criticism of the team but this team has character, it showed it last season. It has shown it's got resilience.

Okay, we concede more than we would like at times but you can't question the character. That can't be criticised.

We have players who've shown they have spirit but when you don't get victories it affects confidence and you don't perform quite as good. My job is to keep instilling that confidence.

I have a team full of characters, of fully committed people and hopefully that's something that will improve. We have to stand up and show that we can get a result and tough it out, and that's what we will definitely do."
The LFC manager sent out some mixed messages on the Liverpool captain, Steven Gerrard.  Many supporters have watched with disappointment about how ineffective he has been in his new 'Rodgers-inspired move' to a holding midfielder.
Rodgers insisted the player couldn't do what he could 10 years ago - but there were suggestions that he may be about to do an about-change and move him further forward, bringing Lucas Leiva back in to the side.
"The spotlight he (Gerrard) is under is incredible. I think people expect him to be the player he was 10 years ago and that is simply not the case.

He has been adapted to a playmaking role, so the player who scored 15 goals a season is not there anymore but it is hugely unfair that he gets judged on that level.

He is the best player I have ever worked with in terms of football mentality and the loyalty he has shown this football club. I have shown in my time I do not deal on sentiment. I do not pick him on sentiment.

He is in at 8.30am every day to prepare for training. I judge him on that and the influence on other players."
Liverpool face Ludogorets at 7:45pm tonight.