Brendan Rodgers spoke to Talksport this morning - ahead of his afternoon press-conference for the final Premier League game of the season.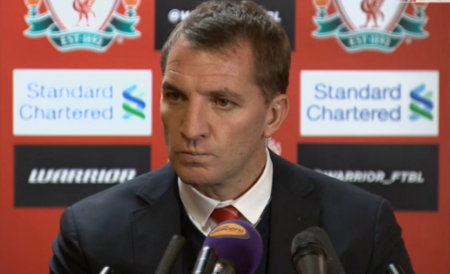 The 3-3 draw at Crystal Palace this week is still on the Liverpool managers mind, and he admitted repeated viewing hasn't been enjoyable:
I've watched it three times since and when you analyse it, you just cannot envisage the result being what it is. It's incredible. Fair play to Crystal Palace, they came back, but we let them into the game.

The goal that we conceded for 3-1 was a goal that you would never concede at 0-0; maybe there was a lapse in concentration where you think the game is won. The message at half-time was just to win the game. People look at it and think we were going all out to try to score a load of goals - it was near impossible to get that amount of goals back. But because we got the two goals early on in the second half, it gave the players momentum and confidence to keep going.

We'll learn from it. Away from home, we've conceded too many goals. At home, our record of wins and goals conceded is up there. So we know the areas that we need to be better in and we'll certainly be that next year.
With the final home game against Newcastle United - the manager said the players aim to send the supporters home in a positive mood:
In terms of Sunday, all we can do is win our own game, and send the supporters away happy - they have been brilliant for us this year. I think we have seen the true power of the Liverpool supporters this season. The team has been fantastic and they have shared in that. All we can do is win the game.
Rodgers also highlighted that it wasn't just new players that would help next season - but growing youngsters already in the squad:
We will strengthen next year; we will add players to our group and our younger players will have a year's experience. Steven Gerrard, for everything that he has won, this is probably his first real title run-in at 33 years of age and it's absolutely amazing. The level that he has played at this year has been incredible. For him, me and the rest of the team, we'll finish the season strongly. 

You need guys like Steven Gerrard, Luis Suarez and Daniel Agger, those types that the young players can learn from - that's important for them.
The manager also reserved special praise for the clubs fans:
In the last few home games, they have obviously been willing us on and the streets have been lined - it took me back to years ago watching Liverpool, with the supporters, the flags and the passion that they had. That's also been a trademark of this season, the Liverpool supporters showing their strength. Right around the world, they have given us huge support and that's what really pushes us on.
Liverpool take on Newcastle at Anfield on Sunday at 3pm.
Has Brendan Rodgers impressed you this season? Do you think he can improve further next season? Leave your comment below.