Brendan Rodgers has spoken to the media ahead of a monumental game with Chelsea this Sunday at Anfield.
Liverpool will be looking to avenge a 2-1 defeat at Stamford Bridge over the festive period.  A Liverpool victory would mean that Chelsea are out of the title race whilst a Chelsea victory would hand Man City the advantage.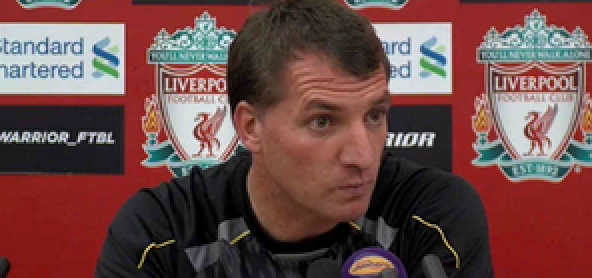 The LFC boss was first asked about David Moyes recent dismissal at Manchester United:
'He's an honest guy and worked tirelessly.  How he was opened up to the ridicule he was? - I find that fascinating and sad. When he comes back he'll be a better manager because of the experience.

'When you are at a high profile club it's always difficult to see a fellow manager lose his job. He is an outstanding manager and an honest guy. He'll be back and be better for it.'
He was also asked about Daniel Sturridge's fitness:
'We'll see. We'll give it another 24 hours. He's working hard with the medical team. If he's not fit we've coped before, we've managed before without a number of our players and we'll go into the game with confidence.
Rodgers was asked if he can believe that Liverpool are top of the League:
'At the beginning of the season people would have said it was a real challenge for us to be in the top four.  All the money (everyone else) spent in the summer suggests it would have been a real challenge.  To be secured in the top three with three games left - it's remarkable but not surprising because the player's have worked hard and played with quality and consistency.'

'We're playing with real confidence. The run we are on is incredible. But we've shown all sorts of qualities to win those games.

'The focus now is on Chelsea; an outstanding team with lots of good players and a world class manager but fortunately for us we're playing at Anfield with the great support behind us and they will be important.'
The press went on to highlight possible 'mind-games' from Mourinho about his team selection:
'There's certainly no mind games on behalf of himself to myself for sure.  He knows me well enough to know that it wouldn't bother me one iota what anyone says or does.

'I read somewhere about them playing a weaker team but I think it's hugely disrespectful to some of their players.  If they're deemed to be the weaker ones in their squad - whatever team they put out it will have cost more money than ours and be more experienced than ours.'
Rodgers also fired a warning shot across Chelsea's bows:
'It is difficult (for them) because they have the game in the (mid)week.

'There is no doubt that if they play the same team on the Sunday (against Liverpool) as the Wednesday there will be a cost to that.

'We saw that with Man City.  When they played us it was a real intense game because of the nature of our team and our style of aggresive football.  And I think Manuel felt on the Wednesday that when they played Sunderland there was a cost - and they ended up drawing their game.
There was still time for Rodgers to answer a question about what pressure was under being top of the league.
'I'm enjoying being top of the league.  It is absolutely wonderful. There is no pressure with it.  People say 'You must not sleep at night'. I've never slept better! It's absolutely great - it's why we work.

'I see the joy in the players and in their training - and there is no anxiety. It's good to be involved in. The only way you get the experience is by going through it - win or lose.

'No matter what happens this season we will have had a brilliant season and will look to sustain that and build on it next season no matter where we finish.'
Liverpool take on Chelsea on Sunday afternoon at Anfield.