Luis Suárez's fate will be decided by an FIFA disciplinary commitee who have opened proceedings into yesterday's alleged bite on Italian defender Giorgio Chiellini.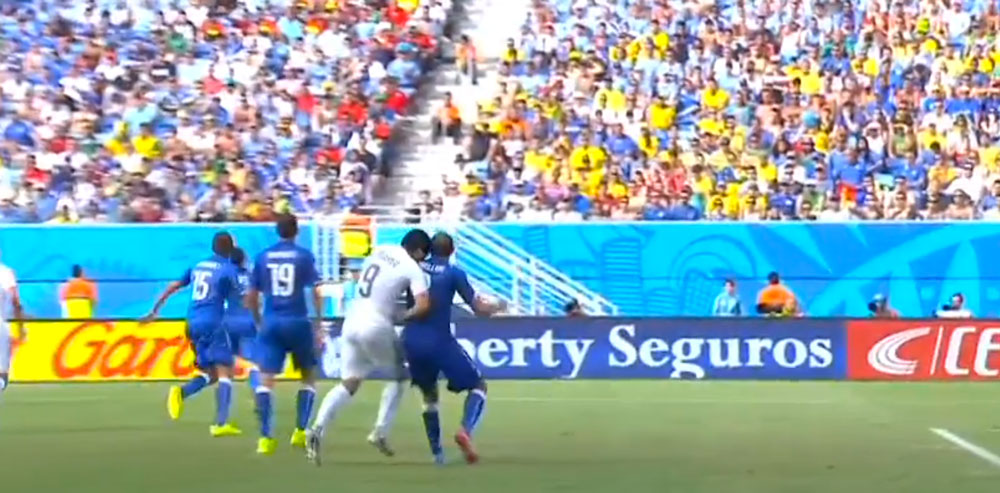 FIFA have given the Uruguayan player until 5pm local time to make representations to the committee.
Jim Boyce, a FIFA vice-president and head of the referee committee was quoted as saying:
"I have watched the incident several times on television. There is no doubt Luis Suárez is a fantastic footballer but, once again, his actions have left him open to severe criticism.

"Fifa must investigate the incident seriously and take whatever disciplinary action deemed necessary."
Suarez himself gave this verdict (which has been translated) after the match:
"These situations happen on the pitch. We were both just inside the area; he struck me in the chest with his shoulder and he hit me in the eye as well.

"These are things that happen on the pitch and you shouldn't attach so much importance to them. I'm very happy to have qualified. We are taking each game as it comes. We know that we're in a difficult situation; we're at our limits now."
Suarez was handed a 7 match ban for a biting incident whilst at Ajax, before being given a 10 game ban by the FA last year for a similar incident.
FIFA can hand out up to a 24 match or 2 year ban.