Liverpool FC have released information on next season's ticket prices with some price freezes and cuts but substantial increases in certain parts of the ground - including a rise from £58 to £77 for Category A games in certain sections of the Main Stand.  £77 being the highest 'standard' matchday prices.
According to fans groups around 5000 of the new 8000 seats in the Main Stand per game will be for hospitality customers.
Liverpool have introduced a £9 ticket but further analysis suggests this price will only be available for 3 of the 19 Premier League games - and available to only 500 supporters.
The club also intend to give away 50 tickets per game to local schools.
The clubs owners have continued their policy of segregating ticket prices - and for 2016-17 there are now even more categories of pricing - depending on which block you sit in.
LFC Chief Executive Ian Ayre spoke to the Echo, saying:
"In the case of affordability, what's affordable to one person is different to another. But with that in mind we tried to create a real range of prices.

"At the higher level or the general level, this announcement sees 64 per cent of our season ticket prices either coming down or freezing and 45 per cent of match day prices coming down.

"We have always had a family section; we have always had 'dad and lad' type tickets and we'll continue to have that.

"We are putting in more young adult tickets at a decent price – 20,000 as we say. And the idea is just to keep working on this type of initiative.
Season Ticket holders have on the whole fared a little better than members.  Some season ticket holders will see modest price reductions, however this appears to be offset by other season ticket holders who pay substantially more.  For the first time some season ticket holders at Anfield will see their ticket break through the £1,000 barrier.
The club has come in for some criticism for the overall package.  Next season the club will not only receive around £40M extra due to the new TV deals.  Fans groups had hoped that the substantial increase in capacity would have enabled the club to announce a price freeze or as some had hoped a reduction in prices.
Fans group Spirit of Shankly released a statement today which included this analysis:
Next season the club will receive an additional £40million due to the increased tv deal. This may rise on performance and the sale of international rights by the Premier League

Other clubs have announced price freezes.

This leads us to question whether this additional revenue of £2million, in light of this, is necessary?
Ticket Prices 2016-17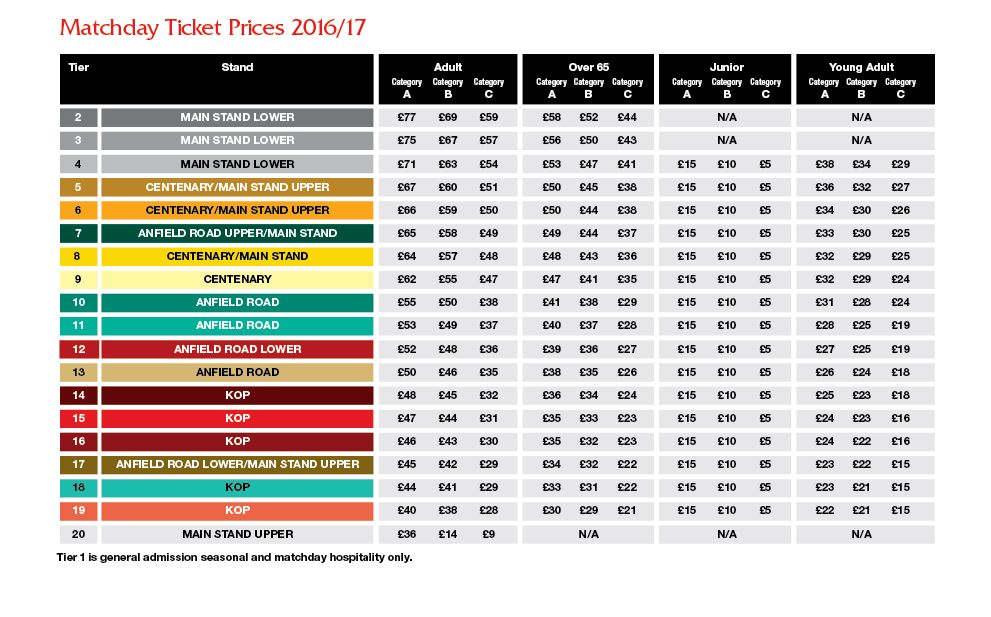 Ticket Map Anfield 2016-17