Mohamed Salah, the man referred to as the 'Egyptian King' by the Anfield faithful, was the well deserved winner of this season's PFA Player of the Year award at last night's event.
It has been a breathtaking debut Liverpool season for the player.
In the early weeks there were questions about his finishing.  No more.
He's scored 41 goals in his 46 Liverpool appearances.  There have been no dips in form as he has maintained an astonishing level of fitness, determination and above all quality over the 9 months of the season.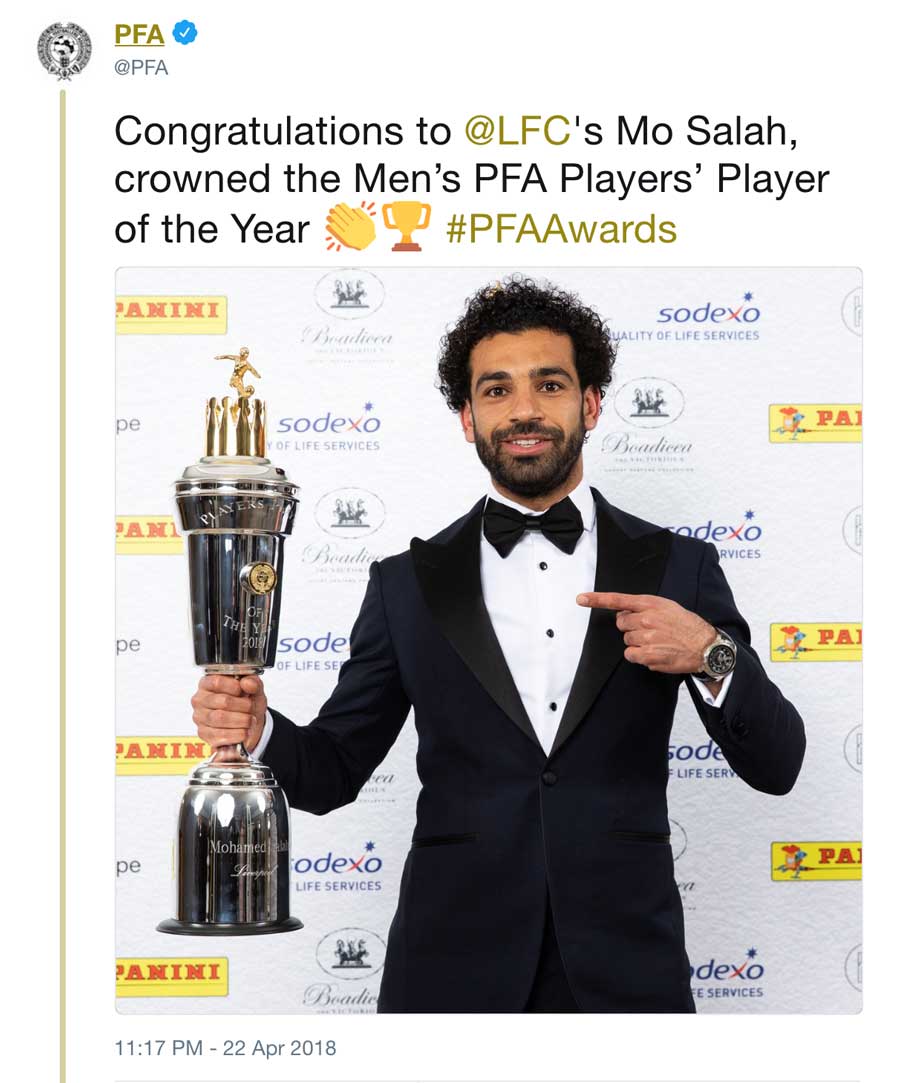 Before his arrival there were questions about the size of the fee (a snip now at £36M) and about his previous experience of the Premier League (with Chelsea under Mourinho).
But what is becoming a significant feature of Jurgen Klopp's reign is that players improve under him.
The English Premier League's most expensive export, Philippe Coutinho, is almost an afterthought because of the impact that Salah has had.
Despite Liverpool's relatively meagre silverware in the last 10 years, the talents of Gerrard, Torres, Suarez and Salah have lit up the Premier League for the reds with each seemingly intent on eclipsing the previous' impact.
Speaking at the awards Salah said:
"It's an honour and especially as it's voted by the players. I am happy and proud.

"I didn't have my chance at Chelsea. It was clear I would return and show everyone my football. I think I left and came back a different person, man and player."
Fresh from his success however he must now focus on helping Liverpool overcome his former club Roma in the Champions League semi final - a great opportunity for him to go on to make this a truly sensational season.
The Liverpool boss, Jurgen Klopp, added the thoughts of many Liverpool supporters:
"The team lives from personalities, from characters, from players and I am really happy that I had the opportunity to be your manager in the last year.

"I think this award, you are voted for from all the other players in all the leagues in England, is an unbelievable honour so you can be really proud and your family can be really proud.

"On behalf of the LFC family, again, congratulations. It was a fantastic ride so far, but you know we have still a few yards to go. With the best wishes for your future here at LFC.

"And now, please grab the trophy and come home - we play on Tuesday! See you then."
Congratulations Mohamed Salah.