UEFA Champions League Group Game
Tuesday 11th December 2007 @ 7.45pm
Stade Velodrome, Marseille

Three games ago Liverpool lay bottom of the group nursing a single point from three matches. The media had turned on Liverpool – 'Rafa doesn't know how to manage in Europe' they cried – incredulously! Three games later and Liverpool have done it again. This time there was no sneaking around – no 'lucky' goal.
Liverpool have scored 16 goals in the last 3 group games handing out a punishing 8-0, a 4-1 tonking and tonight, best of all, in Marseille's own ground a 4-0 hammering of the French side.
Liverpool – to be blunt – wiped the floor with Marseille, chewing up and spitting out former players Bolo Zenden and Djibril Cisse – both who have played in European Cup finals with Liverpool. Neither of them is ever likely to grace the same stage again. The same can certainly not be said for anybody in Rafa Benitez' Liverpool side.
The reds were ahead inside four minutes when a surging Steven Gerrard run proved too much for the defender who gave away a penalty – if the decision had been later in the game a red card may have been handed out – but Marseille were lucky to stay with 11 men on the field. The penalty was saved but in true Istanbul style – the penalty kick taker was first to the ball to fire home from the rebound. Gerrard, and Liverpool – 1-0.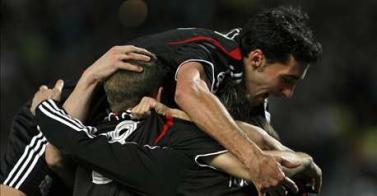 Gerrard is on a terrific goalscoring streak for Liverpool – but someone else is too. Fernando Torres scored the goal that arrived in the 11th minute and it was one of sheer class. Looking every bit the world class player he is – he skinned past a few Marseille players to slot the ball home. Just over ten minutes in and the tie was effectively over.
Liverpool were dominant and it was men against boys.
The second half continued in a similar vein with Dirk Kuyt on hand to secure a third early on before Rafa removed some players from action, ahead of the weekends encounter with Man United. Ryan Babel was a late substitute arrival for Liverpool, and he also continued his recent goalscoring streak with a well taken goal in injury time to add insult to injury.
The French resistance was absent tonight. Liverpool will travel to Spain or Italy in the next round to face one of the biggest clubs in Europe. Our opponents should be prepared to face THE biggest.
Post Match Reaction:
to be added
Teams:
Liverpool: Reina, Arbeloa, Carragher, Hyypia, Riise, Kewell (Aurelio 67), Mascherano, Gerrard, Benayoun, Kuyt (Lucas 86), Torres (Babel 77).
Subs Not Used: Itandje, Finnan, Crouch, Hobbs.
Booked: Carragher, Aurelio.
Goals: Gerrard 4, Torres 11, Kuyt 48, Babel 90.
Marseille: Mandanda, Bonnart, Rodriguez, Givet (Faty 45), Taiwo, Cheyrou (Nasri 34), Ziani, Zenden (Cisse 46), Cana, Valbuena, Niang. Subs Not Used: Mate, Oruma, Zubar, M'Bami.
Booked: Cana.
Att: 53,000
Ref: Terje Hauge (Norway).
Quick Links
Champions League Campaign 2007/08
Updated LFC Stats
LFC Season Analysis 2007/08