UEFA Champions League 1st Knockout 1st Leg
Tuesday 19th February 2008 @ 7.45pm
Anfield
What a difference 75 hours can make? Or should that be what a difference European football makes? Liverpool put in another fine European performance to dispatch a side the media had labelled as 'Europe's finest'. Dirk Kuyt and Steven Gerrard scored the late deserved winners as the reds dominated the entire game against Inter, the first 30 minutes against 11, the last 60 without Materazzi.
From the first whistle Liverpool oozed the determination, craft and guile that seems to have deserted them when playing domestic football. Whether it was the prospect of the reds 100th European victory at Anfield or that 'Je ne sais quoi' of an electric European night – who knows?
Torres, Gerrard and Reina were returned to the starting line up, and Dirk Kuyt – the only man who could score against Barnsley – was rewarded with a place in the starting line up. The involvement of both Lucas and Javier signalled that Gerrard's role was going to be an attacking one.
Liverpool commanded the game from the outset, chances were not clear cut but Torres was creating a nuisance of himself. When he gave Materazzi a 5 yards headstart then sailed past him, the Italian did what he did best and flailed his arms at the Spaniard. A yellow card was rightly delivered. Liverpool were poaching around the box but the Italians know all about defending – Inter hadn't conceded in four games and hadn't lost in 47 matches.
After 25 minutes Inter made their first real foray in to the Liverpool half, but their first and only chance wouldn't arrive until the second half.
On the half hour mark Torres stormed past Materazzi, who went for the shirt grab. Another bookable offence and the former Everton clown, had managed to get himself an early bath.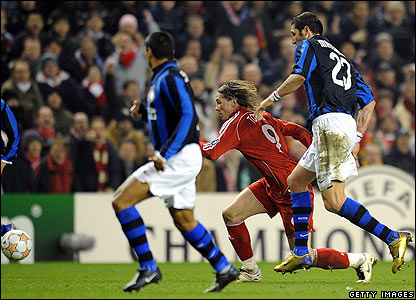 Ironically, as it always seems to happen, 10 man Inter suddenly became more difficult to play against than 11. Their initial approach may have been to score at least once, but now they had all their players behind the ball and were implementing plan B – go for the goalless draw.
Liverpool have suffered all season at breaking down the miserly footballing sides who attempt this tactic and as half time came it looked like their plan may succeed.
Javier Mascherano was in inspired form. Again. His passing and dogged determination ensured Liverpool were the only team getting a kick of the ball. £17 million is a lot of money but for a proven class act – already enshrined in to the Liverpool set-up – the reds should put their interest payments on hold and get him signed. His loan deal has been a Benitez masterstroke.
The reds should have been awarded a penalty when an Inter player clearly handled the ball at the edge of his 6 yard box. The referee decided against it – maybe he was sticking with the tradition of 1965 and all that.
Off went Lucas to make way for Crouch and the reds had their 3 fit strikers on the pitch. The Italians clearly had no idea how to play against Crouch, and he added a new dimension to the reds forward play.
As the minutes ticked on we all wondered that we had been here before. Another draw. Another missed opportunity. But this is the European Cup.
Eventually the Italian door turned from concrete to spaghetti and Dirk Kuyt, a man with a dark cloud over his Liverpool career, managed to fire a shot (with the help of a little deflection) in to the back of the net. Anfield erupted. Inter knew they were beaten.
In the last minute of normal time, Steven Gerrard popped up with one of his 'Olympiacos/Istanbul/Cardiff' moments to double the reds lead. The Italians were time-wasting, Rafa signalled to the Assistant Ref to give the reds more time. Let's not get too greedy though.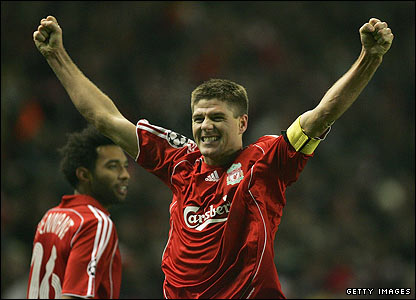 Anfield was vibrant again and as always, the reds are at their most dangerous when they are down. The entire ground erupted at the final whistle, apart from the few empty spaces in the directors box. Spaces that a few months ago had been planned to have had American backsides wedged in to them. I wonder what they were thinking tonight?
Half time in the tie. Advantage the five times Champions of Europe.
Teams:
Liverpool: Reina, Finnan, Carragher, Hyypia, Aurelio, Gerrard, Mascherano, Lucas (Crouch 64), Babel (Pennant 72), Kuyt, Torres.
Subs Not Used: Itandje, Riise, Benayoun, Alonso, Arbeloa.
Goals: Kuyt 85, Gerrard 90.
Inter Milan: Julio Cesar, Maicon, Cordoba (Burdisso 75), Materazzi, Chivu, Zanetti, Stankovic, Cambiasso, Maxwell, Cruz (Vieira 55), Ibrahimovic.
Subs Not Used: Toldo, Figo, Crespo, Maniche, Suazo.
Sent Off: Materazzi (30).
Booked: Chivu, Materazzi.
Att: 41,999
Ref: Frank De Bleeckere (Belgium).
Quick Links
Updated LFC Stats