Brendan Rodgers made a winning start to his Liverpool career, and his European debut as a manager - although he was left in little doubt about the size of the job he faces at Liverpool.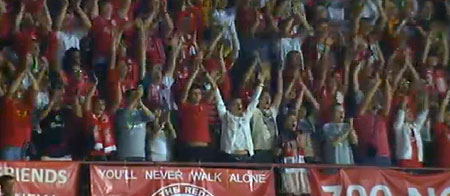 Much of the pre-game talk had been about the new style of football we can expect from Liverpool - but the reds for the majority of the game were a poor second best and were lucky to even be in the game at half time.
The reds consistently gave away the ball - often in dangerous positions - in front of an intimidating atmosphere created by the fans in Belarus.
Fabio Borini made his Liverpool debut, and Jamie Carragher captained the side in his 700th appearance for Liverpool Football Club.
In the second minute Igor Voronkov fired the first shot in anger for the hosts but it went narrowly over the bar.
Early on Liverpool suffered an injury, Joe Cole going off clutching his thigh, and moments later Raheem Sterling was sent on to replace the former England international.
Gomel dominated Liverpool in the first half and Brad Jones was required to spare Liverpool's blushes on a number of occasions.  As well as Liverpool's inability to retain possession - the high line of the two full backs was allowing the Belarus strikers time and space to put pressure on Liverpool's centre-back pairing.
At half time Glen Johnson made way for Martin Kelly but almost immediately the lead nearly fell to Gomel when they caught out the reds defence and skipped past the oncoming Brad Jones.  The ball thankfully raced over the goal-line before it could be angled in to the net.
Kozeka then went close for the hosts when he hit the post, the rebound thankfully put wide.
In the 66th minute Lucas Leiva came on to replace Jordan Henderson and within a minute Liverpool were ahead.
Against the run of play Stewart Downing caught the keeper off guard to lash home the reds first goal of the season.
The goal did little to settle Liverpool - and Gomel continued to control the game for the rest of the match.
Liverpool were shockingly poor in this game, but got a result that should almost certainly put us through to the next round. The 2nd leg is in a weeks time at Anfield.
Team: Jones, Johnson (Kelly 46), Enrique, Carragher, Skrtel, gerrard, Cole (Sterling 23), Henderson (Leiva 66), Downing, Spearing, Borini
Unused subs: Gulacsi, Robinson, Adam, Shelvey
Goals: Downing 67