Liverpool scored three times again in this weekend's friendly but maintained the clean sheet they were unable to do at Wrexham last week.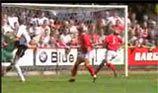 Lee Peltier, Peter Crouch and Ray Putterill were the reds goalscorers, with two in the first and Putterill's goal in the 58th minute.
Andriy Voronin got his Liverpool debut and played for the first half. It was certainly one of the better Liverpool debuts and if he continues in this vein he could turn out to be an impressive free signing for us. He has taken some stick in LFC forums but maybe, just maybe, English football may be perfect for him.
The reds will now head over to Switzerland for their training camp - and the games will start piling up thick and fast with a game on Tuesday and Friday next week and the debuts of Torres, Benayoun and Babel all expected during this spell.
Match Stats
Liverpool First Half: Reina, Riise, Hyypia, Roque, Finnan, El Zhar, Peltier, Spearing, Gerrard, Crouch, Voronin.
Liverpool Second Half: Martin, Agger, Kuyt, Paletta, Putterill, Carragher, Lindfield, Pennant, Arbeloa, Alonso, Sissoko
Crewe Alexandra: Williams, McCready, Cox, Jones, O'Donnell, Baudet, Carrington, Schumacher, Maynard, Lowe, Roberts. Subs - Tomlinson, Pope, Bopp, Lynch, Moore, Bailey, Thomas, Stones, Daniel, Bailey, Williams
Goals: Peltier (21) Crouch (24) Putterill (58) [Watch the goals in the Forum]