Pre Season Friendly
Sun 19th July 2009 – 6.15pm @ Ernst Happel Stadium, Vienna, Austria

Xabi Alonso and Fernando Torres were amongst the returning Spaniards watching from the bench but they could do little to help Liverpool go down to a 1-0 defeat to Rapid Vienna.
Rapid scored their goal in the second half from a direct free kick cooly placed past Peter Gulacsi – the reds 4th choice keeper.
Apart from the result, the reds will be more worried that Yossi Benayoun hobbled off in the 88th minute after being on the receiving end of a crunching tackle.
1st Half team: Cavalieri, Degen, Insua, Carragher, Ayala, Gerrard, Plessis, Babel, El Zhar, Nemeth, Voronin.
Nemeth wasted the reds first chance when he headed wide in the 3rd minute.
In the 7th minute Vienna had the ball in the reds net but it was disallowed for offside.
Youngster Ayala attempted an overhead kick in the middle of the half which unfortunately didn't quite come off.
Gerrard was by far the reds best performer in the first half – and his frustration began to tell just before half time when even after he lost a boot he still went flying in to a 50/50 tackle.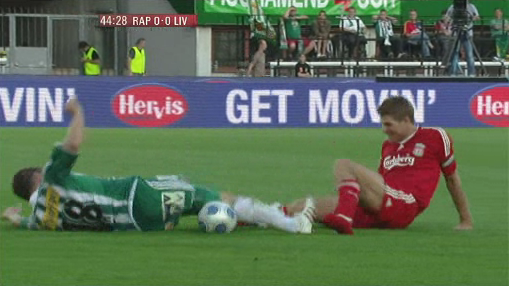 Second half team: Gulacsi, Degan , Skrtel, San Jose, Insua, Kuyt, Lucas, Spearing, Yossi, Ngog, Pacheco
Liverpool made 9 changes for the start of the second half but it didn't improve the performance.
There were half time flares inside the ground – but not under the backsides of the reds players.
In the 58th minute Steffen Hofmann scored a fine direct free kick, curled in to the corner past Peter Gulacsi.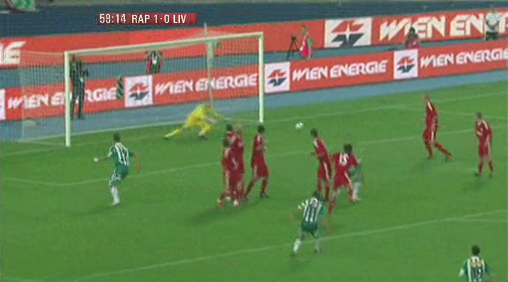 Within 2 minutes Vienna scored again but thankfully it was correctly ruled out for being miles offside.
The 71st minute saw the reds first real chance of the second half when Kuyt blasted at the side netting.
With 5 minutes left Yossi had a glorious chance – but he can't react quick enough to lash it in the net. Minutes later and Yossi suffers a bad challenge in the middle of the park. The stretcher comes on but eventually Benayoun hobbles off to leave the reds down to ten men.
But by then it was too late and the referee's whistle signalled a defeat for the reds.
As the reds move to the far East we hope to start to see a more settled Liverpool first XI. It's early days yes – but some of the youngsters have not grabbed their opportunities with both hands.
Liverpool fly to Thailand next. Will Alonso, who was here tonight, be on that flight with them? Steven Gerrard is one who won't be on the plane – he will return to Liverpool to answer the assault charges dating back to January.
Goals
Hofmann (58)
Team News
LFC 1st Half: Cavalieri, Degen, Insua, Carragher, Ayala, Gerrard, Plessis, Babel, El Zhar, Nemeth, Voronin
LFC 2nd Half: Gulacsi, Degan (Kelly 63), Skrtel, San Jose, Insua (Mascherano 63), Kuyt, Lucas, Spearing, Yossi, Ngog, Pacheco
Att: 52,000