Liverpool won another record League Cup title to take the tally to 8 trophies – but not after winning the final in typical Liverpool style.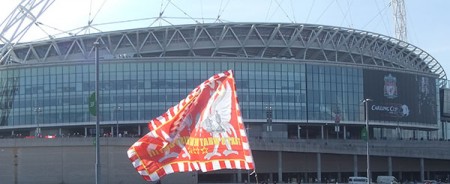 Despite dominating the play and chances Liverpool required the penalty shoot out to finally finish off a resilient Cardiff side as the reds made a triumphant return to Wembley Stadium.
The reds opened in dominating fashion when Glen Johnson fired on to the crossbar – the rebound falling to Gerrard who then put his shot over.
Both Downing and Henderson were providing plenty of supply to the front men, but the reds failed to grab the early goal their play deserved.
But it was Cardiff who struck first when after the reds stood off Cardiff deep in midfield, Mason found the ball and fired it under Reina in to the net.
Liverpool continued to see plenty of the ball in the rest of the half but the final killer touch was missing.
On the hour the reds introduced Craig Bellamy for Jordan Henderson and within minutes the reds had equalised, admittedly with Bellamy not involved.  It was Martin Skrtel who seized quickest on the melee in the penalty box and fired his shot low in to the Cardiff goal.
Both teams had chances as the game slowly crept to extra time.
In extra time the reds again exerted their dominance with a host of chances, with Suarez causing the keeper the most work.  In the second period the reds finally got the goal with 12 minutes left.  Substitute Dirk Kuyt shot, but when it was blocked he executed a perfect shot as he slid to finally put the reds ahead.
But as the game neared its conclusion, Cardiff got a succession of corners and with the ball landing inches from the goal, Turner knocked in Cardiff's second to send the game to penalties.
With tension growing, Gerrard saw his opening penalty saved, before Kenny Millar failed to convert.  Next up was Charlie Adam, who ballooned his shot wide – allowing Don Cowie to put Cardiff 1-0 up in the shoot out.
Kuyt scored and Gestede missed to make it 1-1, before Downing and Whittingham both scored from the spot to make it 2-2.  Glen Johnson fired the reds 5th penalty in – meaning Anthony Gerrard needed to score to keep Cardiff in it.
He didn't and the reds celebrated their 8th League Cup win and their 41st major trophy.