Liverpool beat Bournemouth 1-0 at Anfield for the second time in as many months but this time the reds were well worth the win.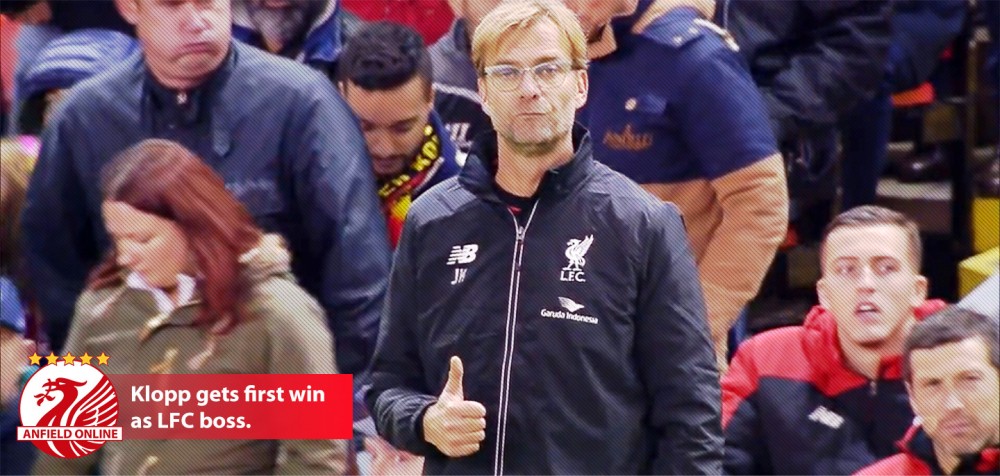 It was the first win for new manager Jurgen Klopp who joins the unlikely duo of Bob Paisley and Roy Hodgson in Liverpool's managers who were unbeaten in their first four competitive games.  A relatively minor stat - and LFC supporters everywhere will be hoping Klopp follows the pathway of Bob more closely than of Roy.
After 3 games in 8 days Klopp finally had to relent and made substantial changes to his team - a total of 9 changes from the weekend's home draw against Southampton.  Only Origi and Clyne keeping their place in the starting XI.
James Milner had been ruled out through suspension after collecting 5 yellow cards already this season, while Benteke sat this one out - his knee filled with fluid after his 45 minutes of exertion at the weekend.
Bogdan, Lovren, Toure, Allen, Firmino, Ibe all pushed into the starting line up.  Along with them the relative newcomers - Brannagan, Teixeira and making his first appearance in the shirt - Connor Randall at right back.  Clyne switched to left back.
And handy it was because Liverpool's goal in the 17th minute arrived due to the onrushing Clyne down the left channel.
It was a fine goal and ultimately turned out to be a deserved winner.
Good movement from Origi down the right and he found Firmino - the Brazilian threaded a perfectly weighted ball through to Teixeira who backheeled it towards goal.  It was clawed off the line by a defender but Clyne was there to put the reds ahead.
There were some more chances - mainly via set pieces, although Firmino saw a half-volley tipped over.  The second half saw Origi fail to latch on to a low cross by Lucas, and Lucas himself attempted an audacious shot from outside the box.  Firmino had a chance that went wide - a chance that had arrived after he won the ball back through some pressing high up the pitch.
Liverpool's only downside on the evening was the withdrawal after 30 minutes of Kolo Toure who joins Liverpool's lengthy injury crew with a problematic hamstring.
Plenty of players gave the manager some food for thought - Bogdan looked more composed than Mignolet has been and Firmino and Teixeira both looked more threatening than Coutinho has of late.
Arsenal, Chelsea and Man Utd were all knocked out of the cup at this stage but Man City and Everton are two interesting opponents left in the competition.
In fact the reds have a major hurdle already in the Quarter Final draw - Southampton away.  Liverpool have never won a cup tie in the 7 attempts away at the Saints.
Liverpool face Chelsea at Stamford Bridge on Saturday lunchtime.