FA Premiership
Sunday 30th March 2008 @ 4pm
Anfield
Liverpool opened up a five point gap over Everton in the race for fourth place as Liverpool completed a Premiership double over the blue half of Merseyside.
Fernando Torres, who was playing in his first Merseyside derby, scored the game's only goal only 6 minutes in to ensure that bragging rights remain with Liverpool fans.
The scoreline flattered Everton, Liverpool dominated the entire game from the first whistle to the last, and in fairness should have made the game comfortable in the first half. As it was, Everton always had that faint opportunity of snatching an equaliser. As it was – it was as comfortable as a 1-0 lead can ever get, and not too many Liverpool fans will have been grimacing as the game wore on.
Torres 28th goal of the season was in contrast to Yakubu of Everton. The new Everton striker has been feted by the blues since his arrival, but he looked outclassed and out of touch all game. Admittedly, Everton have performed well this season and I'm as surprised as anyone that they put in such a woeful performance today.
The early goal came when a Gerrard corner failed to be dealt with. Yakubu dawdled with the ball outside his penalty area and Alonso took the ball off him. Kuyt flicked through to Torres, who fired an angled shot past Tim Howard in front of the Kop.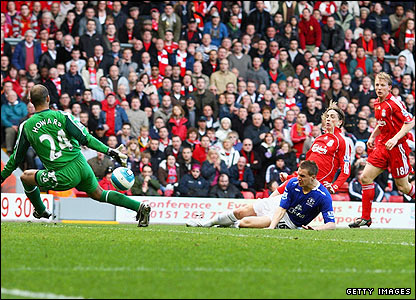 Everton had won the toss and elected to send Torres towards the Kop in the first half, but that was to be their last victory in this game.
Both Kuyt and Babel had excellent chances to increase the reds lead from great crosses floated in to the penalty box – and before half time a Torres assist gave Gerrard a screaming volley to hit. The ball swerved back in at the last minute but crashed back of the post.
Everton improved moderately in the second half, but the reds still had the best chances and on another day could have had 5. Let's hope that other day is this mid-week when Liverpool face Arsenal in the Champions League.
Liverpool fans can rejoice. Two victories over the old rivals, and a 5 point lead are testament to the fact that we are, as usual, the pride of Merseyside.
Quick Links
Latest Premiership Table
Updated LFC Stats
LFC Season Analysis 2007/08