FA Premiership
Wednesday 5th March 2008 @ 8 pm
Anfield
Fernando Torres scored his third, and Liverpool's sixth hat-trick since the summer to ensure the reds won the 'game in hand' that has been at the back of our minds since August.  (It's been 56 years since the reds managed 6 hat-tricks in a season – 1961/62 with Roger Hunt scoring 5 and Ian St John grabbing the other)
Liverpool move back in to 4th place above Everton with a superior goal difference of 8 goals. Considering Liverpool's title challenge has faltered at Anfield – the reds have now scored more goals at home than any other Premiership side. The word of the season, like so many others, is 'inconsistency'.
As the reds continued their recent revival they looked like they were in a different league to West Ham United. How the Hammers fans must struggle to believe they only handed Javier Mascherano 3 games, and here he is, Liverpool's newest signing weighing in at £18 million and helping the reds to a 4-0 trouncing.
Let's not blow too much smoke up Javier's backside though – this game wasn't about the reds second most expensive signing at all. It was all about the man the Americans bought <insert controversial gasp here!>. Fernando Torres proved yet again that he is Liverpool's new messiah. A second hat-trick in as many weeks, every goal taken with the coolness and style of a young man who clearly doesn't care about the price tag around his neck, or the fact that he should still be 'adapting' to the game.
That's right. If anybody ever tells me a player is 'adapting' again then I will just point to Fernando Torres about what a lot of balls that is. You're either class or you're not. Everything about Fernando proves that the likes of Kuyt will never be great Liverpool players.
Benitez continued his theme of 'continuity' with only minor tinkering around the edges. Even with games coming thick and fast a core of players is rapidly developing, as well as a core formation. In the first 25 minutes Liverpool looked as good as they have at any point this season.
Torres set the reds on their way before doubling the advantage early in the second half. Benitez was pacing the touchline. Torn between his natural desire to rest the player for the weekend and allowing the player a chance to grab another hat-trick. When he snatched the hat-trick, by walking around the West Ham defence, Benitez hauled him off to a standing ovation. Job done.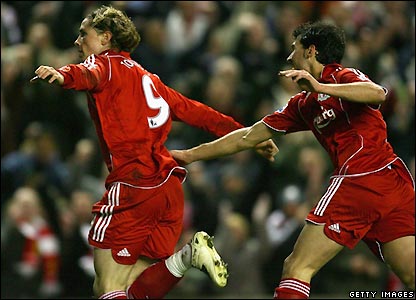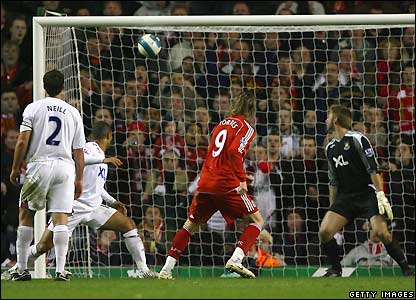 And before everyone went home dreaming of Fernando, that man Gerrard had to get in on the act by scoring. A cracker as well. Typical!
Well done Liverpool. (Don't get excited Tom and George – we still want you out)
Post Match Reaction
Rafael Benitez:
"At the end I was really pleased with the performance of the team.
"Torres is on fire and that is good for him and fantastic for the team.
"We now have a really important game game against Newcastle and we have to make sure we get three points."
West Ham boss Alan Curbishley:
"We made no impression on Liverpool at all.
"It's the second time in four days we've played a top side and we knew it would be a tough game but we did not expect this. We have let ourselves down."
Team Line Ups:

Liverpool: Reina, Arbeloa, Skrtel, Carragher, Riise, Gerrard, Mascherano, Alonso, Babel (Pennant 76), Kuyt (Benayoun 63), Torres (Crouch 82).
Subs Not Used: Itandje, Hyypia.
Goals: Torres 8, 61, 81, Gerrard 83.
West Ham: Green, Neill, Ferdinand, Upson (Spector 63), McCartney, Solano (Ashton 69), Noble, Mullins, Ljungberg, Boa Morte, Cole (Zamora 69).
Subs Not Used: Wright, Pantsil.
Booked: Cole, Neill, Noble.
Att: 42,954
Ref: Steve Bennett (Kent).
Quick Links
Latest Premiership Table
Updated LFC Stats
LFC Season Analysis 2007/08