Liverpool roared to a comprehensive victory – etching away the misery of the opening defeat to Spurs, and the memory of last season's two 0-0 draws against Stoke City.
With Skrtel out of the squad after failing to recover from his fractured jaw, Daniel Ayala, made his full debut for Liverpool. Glen Johnson was also making his first competitive debut at Anfield – and elsewhere Benayoun replaced Babel in the starting line up.
It didn't take long for Liverpool to open their account. A move down the right wing saw Liverpool's Steven Gerrard set Torres up who banged in the reds opener in the 4th minute.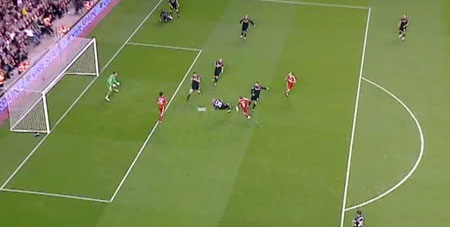 Liverpool were the more attacking side but it was Stoke who saw the best of the opening half's set pieces – although the reds dealt easily with Delap's thunderous throws.
Glen Johnson was a constant threat for the reds, seemingly combining the roles of right winger and right back.
Lucas Leiva was also marshalling the midfield excellently – covering for Mascherano who still needs to learn to do his talking with the ball and not at the ref.
Johnson was lucky to escape a two footed lunge then went unpunished and towards the end of the half Torres face collided with Ryan Shawcross and after a mini blood-bath on the pitch he went off to receive 9 temporary stitches across his left eyebrow.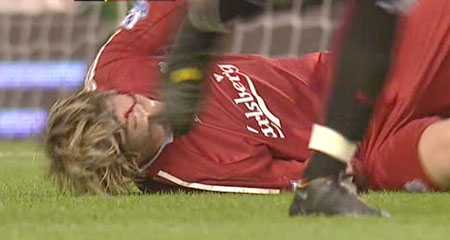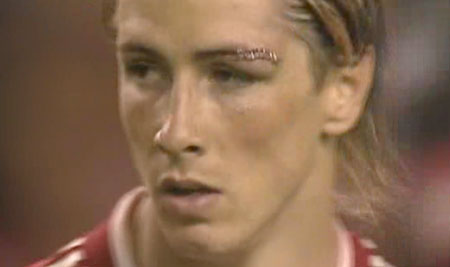 Insua had opportunities to double the reds lead but the opportunity passed him by.
As the first half wore down, Gerrard sent in a penetrating corner which eventually arrived within bicycle-kick range of Glen Johnson who fired home to score on his Liverpool debut.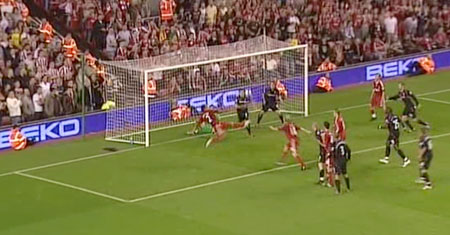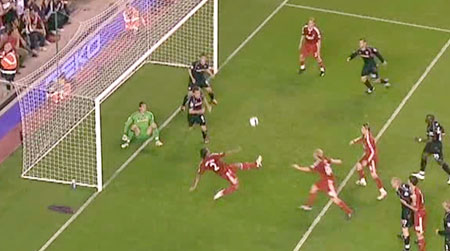 HT: 2-0
Stoke had the first real chance of the second half. Ryan Delap's shot magnificently saved by Pepe Reina in the reds goal.
In the 50th minute Johnson made a fine clearance in what was one of Stoke's last chances of the game.
As the second half wore on Liverpool's passing quality rose to the fore, and Liverpool's third goal was a brilliant team goal. Some excellent passing, a neat turn and pass by Gerrard and Dirk Kuyt fired the reds third in the 78th minute.
Gerrard, Torres and Kuyt all got a deserved round of applause as they were replaced and it was Voronin who took down a long field pass and almost scored the reds 4th.
But that accolade went to David N'gog – a great bit of running from Johnson saw his shot parried by the keeper and N'gog headed the ball home in the 93rd minute to see the reds deliver a demolition to Stoke City.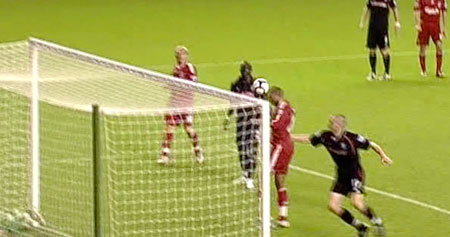 Our Man of the Match
Lucas Leiva has his critics but he was in fine form in this game but on his home debut Glen Johnson is our deserved man of the match. (Vote for your man of the match here in the forum)
Post Match Comments
Rafa Benitez:
"We have plenty of room for improvement. Some players are still short of full fitness.

"We are working hard to see if we can announce good new signings. We have enough money for now."
Team News
Liverpool: Reina, Insua, Carragher, Ayala, Johnson, Gerrard (Voronin 81), Benayoun, Leiva, Mascherano, Kuyt (Riera 81), Torres (N'gog 84)
Subs not used: Cavalieri, Kelly, Dossena, Babel
Goals: Torres 4, Johnson 44, Kuyt 78, N'gog 93
Stoke City: Sorensen, Higginbotham, Shawcross, Faye, Wilkinson, Whelan, Whitehead (Pugh 69), Delap, Etherington, Beattie (Fuller 62), Cresswell (Lawrence 62)
Subs not used: Simonsen, Griffin, Cort, Kitson
Yellow cards: Whitehead
Referee: Peter Walton
Attendance: 44,318