FA Premiership
Wed 21st April 2009 8pm @ Anfield

For two football clubs who have prided themselves on their defending skills down the years, Liverpool v Arsenal games over recent years – especially at Anfield have been goalfests. A 4-2 for the reds in the Champions League, a 4-1 reds win and a 6-3 defeat in the FA Cup are just some of the results from the last few seasons.
Add to that tonight's remarkable 4-4 draw.  A game which saw Arsenal behind once and the reds behind three times, as Liverpool played a league game that was just like a cup tie. Understandably.
Liverpool move back to the top of the table but now require United's dodgy patch of form to start transferring itself in to bad results in the Premier League.
This is a reds fans site and no doubt we're usually somewhat biased (although we do try), but most Arsenal fans know their football and I'm sure the vast majority of them would agree the reds were the better side tonight.  Arsenal were just that shade more clinical in front of goal with Arshavin becoming the first opposing player to score 4 goals at Anfield since the world was all in black and white (or the 1940's to be more specific).
Still without Steven Gerrard due to injury, the reds started brightly – Benayoun was inspired but despite chance, after chance, after chance, Liverpool couldn't make the first half break through. Against the run of play and with their first real chance on goal, Arsenal scored although there was some debate about the decision. On reflection, it would have been harsh to have been called offside as Arshavin scored their first to take Arsenal in to the break with a 1-0 lead.
The second half game was completely different with chances being converted left right and centre.
Within 10 minutes the reds were 2-1 up with a Torres header and then a Benayoun header.
Cue a couple of minutes of Arshavin madness – the equaliser was a great strike from outside the box, and Arsenal took the lead again after a calamatous attempted clearance from Aurelio – which was easily tucked away from 8 yards out.
The game had turned completely on its head and Arsenal were 3-2 up.  Within minutes some more Torres brilliance equalised for the reds.
Liverpool were all out now for the winner and Walcott made a quick counter attack as Arsenal had 2 men on 1 reds defender.  Walcott passed to Arshavin who put it past Reina for his 4th and with injury time here, it looked all over.
But in the 2nd minute of injury time, Benayoun popped up again to bring Liverpool back from the dead and rescue what could be a vital point.
The reds pushed for a 5th but the final whistle eventually arrived.
Liverpool go back to the top of the league on goal difference but United have 2 games in hand.
Will there be more twists and turns to come this season? You wouldn't bet against it.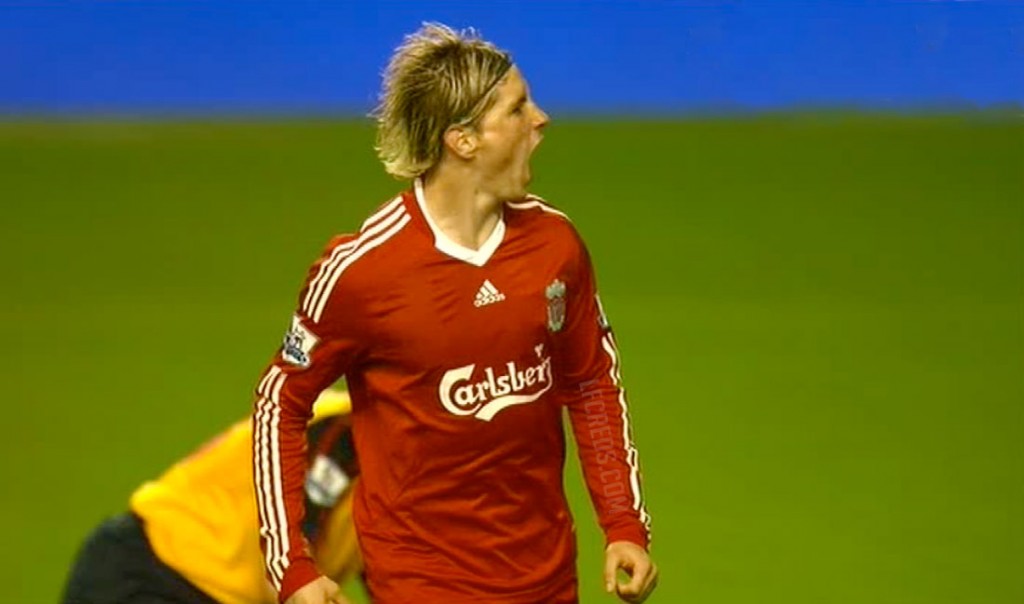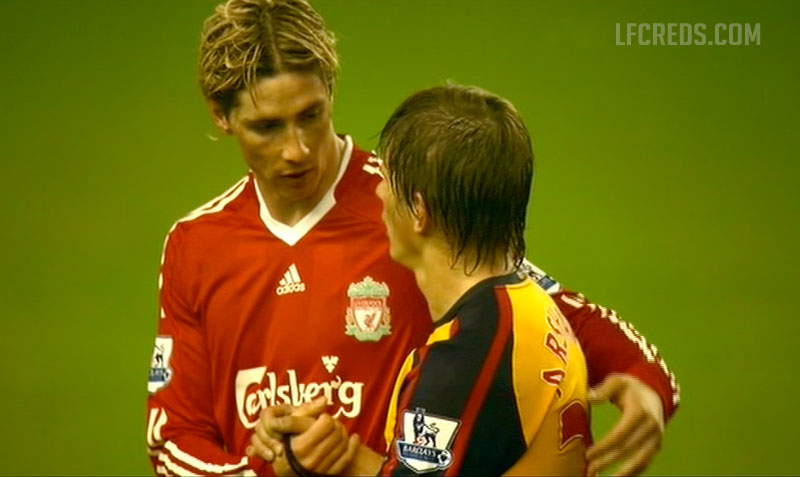 Team News
Liverpool: Reina, Arbeloa, Carragher, Agger, Aurelio, Alonso, Mascherano, Benayoun, Kuyt (El Zhar 86), Riera (Babel 74), Torres.
Subs Not Used: Cavalieri, Dossena, Lucas, Ngog, Skrtel.
Goals: Torres 49, Benayoun 56, Torres 72, Benayoun 90.
Arsenal: Fabianski, Sagna, Toure, Silvestre, Gibbs, Arshavin, Song, Fabregas, Denilson (Walcott 65), Nasri, Bendtner (Diaby 90).
Subs Not Used: Mannone, Eduardo, Vela, Ramsey, Eboue.
Booked: Sagna.
Goals: Arshavin 36, 67, 70, 90.
Att: 44,424
Ref: Howard Webb (S Yorkshire)
Liverpool 4-4 Arsenal – In the Forum
Pre Match Thread
In game Match Thread
Post Match Thread