FA  Premiership
14th March 2009 @ 12:45pm, Old Trafford
Liverpool hit 4 for the second time in a week with a magnificent victory over Manchester United at Old Trafford.  Despite a sloppy Reina challenge handing United a 1-0 goal lead from the penalty spot, the reds took a 2-1 lead in to half time before adding another two goals to hand United their heaviest defeat at home for 17 years.
Apparently when Ronaldo scores at Old Trafford United never lose.  Not any more.  A few other records were broken today as well but back to the game and Liverpool were magnificent.  What's more, Liverpool looked like they had a lot more in the tank.  This was a relatively simple stroll to victory.
Liverpool were without Xabi Alonso due to injury and shortly before kick off the reds were forced to re-shuffle after Arbeloa picked up an injury while training.  Hyypia was drafted in just before kick off and Carragher moved to right back.
The opening 5 minutes weren't promising but the reds gradually gained control of the game, with plenty of possession but little outlet.
But United won themselves a penalty against the run of play when Reina foolishly brought down Jung Si Park.  Reina guessed the direction of the penalty right but Ronaldo had too much power behind it and converted the strike. 1-0 to United and their fans started to sing through their wide range of 3 songs.
If we've learned anything this season though it is that the reds are at their most dangerous when the chips are down and just like when United scored first at Anfield this season – this game was in no way over.
Torres was dangerous all game and Nemanja Vidic couldn't cope when the Spaniard harried him to coolly slot the equaliser in the middle of the first half.  As the second half was coming to an end Gerrard broke away in to the box but was brought down by Evra.  The reds captain slotted the penalty home to put the reds 2-1 up front just before half time.
The second half started with the reds under the cosh, as United threw everything they had at the reds.   A triple substitution followed as United brought on their £30+ million pound man Berbatov, alongside Scholes and Giggs.  But almost immediately Liverpool were providing the attacking impetus and Gerrard was clean through on goal when Vidic decided to cynically haul him down.  Quite rightly Vidic was sent off.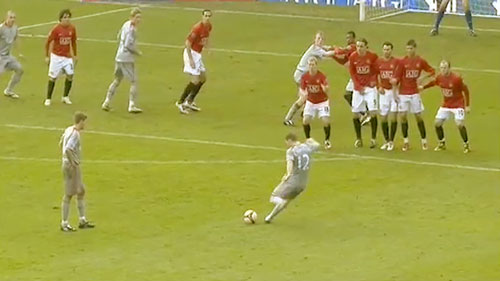 From the resulting free kick Fabio Aurelio sent in a free kick straight past the statue-esque Van der Saar.  Torres and Gerrard were both removed from the action, or rested as we like to call it, and with the next bit of action Andrea Dossena scored for the second time in a week when he skilfully lobbed Van der Saar in the dying minutes of the game.
There wasn't many United fans left in the ground by now as the reds celebrated their 4th goal.  Liverpool have played better but I suppose 4 will do for today.
Rafa took off his glasses and put them back in their case.  Never mind 'Rafa's rant' as the media like to call it.  We'd like to give special thanks to 'Rooney's Rant'.
Match Video
Torres equalises for the reds
Gerrard puts the penalty away
Aurelio free kick and Vidic sending off
Dossena scores the 4th
Post Match Interviews
Rafa Benitez:
"We have good players, a good mentality and great character. We knew we had to win, but even after conceding we had to push forward and believe we could do it. It was a good game, but today we've played better."
Teams
Liverpool: Reina, Carragher, Skrtel, Hyypia, Aurelio, Mascherano, Lucas, Kuyt, Gerrard (El Zhar 90), Riera (Dossena 67), Torres (Babel 81).
Subs Not Used: Cavalieri, Insua, Ngog, Arbeloa.
Booked: Carragher, Mascherano, Skrtel.
Goals: Torres 28, Gerrard 44 pen, Aurelio 77, Dossena 90.
Man Utd: Van der Sar, O'Shea, Ferdinand, Vidic, Evra, Ronaldo, Carrick (Giggs 74), Anderson (Scholes 73), Park (Berbatov 74), Rooney, Tevez.
Subs Not Used: Foster, Nani, Evans, Fletcher.
Sent Off: Vidic (76).
Booked: Ferdinand, Van der Sar.
Goals: Ronaldo 23 pen.
Att: 75,569
Ref: Alan Wiley (Staffordshire).
Forum Match Thread
http://www.lfcreds.com/reds/index.php?topic=14863.0