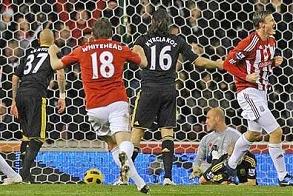 The apparent revival of Roy Hodgson's Liverpool came tumbling down yesterday as Stoke City thrashed us 2-0 and put further question marks over the manager's tactical approach in the Anfield hot seat.  The home side looked absolutely rampant on the ball, and much more likely to score when in possession out of their own half whereas we looked stiff, clueless and, quite frankly, hopeless as we frequently surrendered possession without any evidence of a fight.
It was a largely unchanged side, with Kyrgiakos the only new addition in the place of Martin Kelly, presumably to deal with Stoke City's infamous throw-ins.  Carragher moved over to right back with Kyrgiakos joining Martin Skrtel in the middle.
Unlike Wigan on Wednesday night, there was no real glimmer of positivity in the early stages.  This match started as it meant to go on with Stoke looking lively and efficient on the ball.  There was no need to rely on their direct approach they're known for with their throw-ins.  Stoke were managing to get in to attacking positions with scything runs down both wings.  Our defence and midfield looked rigid once again and the lack of support for Torres and Kuyt is sticking out more than Land's End.
Stoke's searching runs continued to threaten our goal.  Add to this Rory Delap's throws which, contrary to Skrtel's bold words that they would cause us no problems, were proving too much as our defensive frailties were there for all to seas chance after chance fell for the home side.
According to the stats, Liverpool did have opportunities but we were mainly reduced to 30 yard shots from Gerrard and the odd glancing header from a corner.  Truth be told, we were lucky to be going in at the break goalless.
The second half continued in much the same vein, with no changes made.  The frustration was evident as Torres tracked down Pennant and fouled him, resulting in a yellow card.
Then, in the 56th minute, a Delap throw found its way in to our box.  The mayhem that ensued was atrocious as the ball seemed to ping around the box for a good while before Ricardo Fuller poked it in to the net.
A speculative Gerrard shot from well outside the box shortly after the goal wasn't enough to put us back in the game as Stoke continued to turn the screw.
N'gog and Babel were introduced for Miereles and Rodriguez as our attack looked to be bolstered.  Babel took a shot as soon as he had a sight of goal but it flew just wide of the post.  This was shortly followed by another long range effort from Gerrard but there was still no sign of the equaliser we needed.
Shortly before full time, we won a free kick not far from Stoke's penalty area.  Gerrard dummied it for Konchesky who produced a Johnny Wilkinson-esque punt which nearly cleared the home side's stand behind their goal.
A searching run towards the Stoke box saw him feed Carragher, who's cross was cleared by the home side.  Stoke then broke and saw a curling shot just miss our goal.  But Pennant got on the ball again and fed Kenwyne Jones in to the box who made it 2-0 and ended any hopes of a Liverpool comeback.
To make things worse, Lucas was unfortunate to see a second yellow card for a rash challenge on Etherington.
It would be unfair to suggest that Stoke City were fortunate to have played us on a night where there was no evidence of the quality we know our squad has.  They thoroughly deserved their victory and their attacks, especially down the wings, were evidence enough that they do not need to rely solely on Delap's searching throws in to the box.
This was our fifth Premier League defeat of the season.  Although thinking back through the performances we have had to sit through, it feels like it's been twice as many as that.
Following the defeat, Roy Hodgson said:
"I'm obviously sad that a good run's come to an end. It was always going to be tough because it's a battle here.

"We did okay in the first half.  We dealt with the pressure of the throws, the corners and the long balls forward reasonably well.  When they scored from one of the long throws it was always going to be an even bigger uphill battle.

"They've got a very difficult style to play against.  We did our best to deal with it but they got the goal that was required.  Our forwards would have had to do a little bit more for us than they were able to do if we were going to get anything out of the game.  I don't want to be seen to be making cheap excuses.  We lost to a strong team who out-battled us in certain occasions."
When asked whether this result was going to be a reality check after a relatively good run of games, he repsonded:
"A reality check?  I don't know.  We're realistic.  We know we've still got some work to do, get some players back to fitness and work at our game.  We've had a good run and played some good football in that run.  Stoke City is a totally different type of game than the games we've played in the last few weeks because of the way they set out to play the game."
Liverpool team facing Stoke City:
Reina, Konchesky, Carragher, Skrtel, Kyrgiakos, Lucas, Gerrard, Maxi, Kuyt, Meireles, Torres.

Subs: Jones, Kelly, Shelvey, Poulsen, Jovanovic, Babel, Ngog.