Stewart Downing returned to a hail of boos, but it was Villa themselves who were booed off by the home fans as the reds easily picked up 3 points.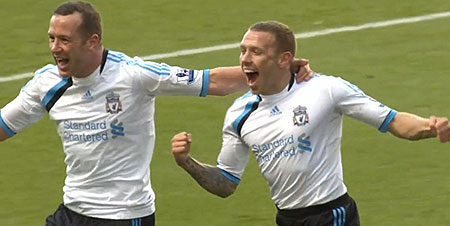 Jonjo Shelvey returned to the Liverpool line up, still missing three central midfielders in Lucas, Spearing and Steven Gerrard.  The player who recently returned from a brief succesful spell on loan at Blackpool, had a good game showing athleticism and determination – and can consider himself unfortunate not to have been amongst the goalscorers.
Liverpool's two goals came, unusually for Liverpool, from corners in the 11th and 15th minute of the match.  Stewart Downing's first corner was low, and Shelvey forced it in to the 6 yard box.  Suarez couldn't fire the goal in, but Bellamy was on hand to give the reds a deserved lead after a dominating start.
A few minutes later and a corner on the other side was taken by Bellamy.  This corner was perfectly placed on to the head of Skrtel, who had done well to create space in the box, and he calmly headed in the reds second.
Villa were restricted to long shots throughout the game, and N'Zogbia, a curse of Liverpool in the past, was far and away Villa's main attacking threat.
Despite only going in at half time 2-0 ahead, the reds came out of the blocks straight away in the second half.  The marauding Daniel Agger got his head on another brilliant cross from Bellamy – but it went narrowly wide.
Luis Suarez could have had two brilliant individual goals, but his first take down and shot smashed against the cross bar.  Later on, a cute flick over the keeper could only bounce back off the post.
Shelvey fired two chances over the bar, and Adam had a shot deflected – a shot that may have been better used as a pass to the unmarked Shelvey.
The reds can be disappointed it was only 2-0 but another valuable three points are collected.  The reds have narrowed the gap to Spurs in 3rd place down to 5 points.