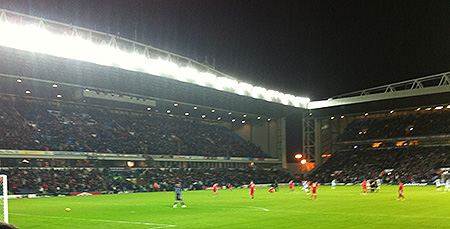 Another away game, another defeat.
The reds lost again on the road.  This time to a Blackburn side thumped by 3-0 at Sunderland at the weekend, without a permanent manager, struggling near the relegation zone and having made a number of changes to their side.
Hodgson bluffed that he could rest Aurelio, Agger and Kuyt, bringing in Konchesky, Kyrgiakos and Cole.   The bluff failed, and over the course of the game he had to bring two of the players on to try and salvage a sorry 2-0 half time defeat.
The large Liverpool FC contingent at Ewood Park got behind the team in fantastic voice, but there was no room for support for the manager.
The most unpopular manager in Liverpool FC history was last night said to be, finally, in the firing line, after leading Liverpool to one of their worst Premier League starts since the second world war.
Liverpool did close in this game early on, when Torres headed wide from a Konchesky cross, but there was no spark of life in Liverpool that had been briefly seen against Bolton.  This was like all the other 9 away games this season.  Limp, lifeless and dull.
Blackburn took the lead on the half hour, and had doubled it before half time – with Benjani grabbed his first goal in 12 appearances, in his first game back for 8 weeks.
Ten minutes in to the second half and it was 3-0.  Benjani again after some more shocking defending, this time from Skrtel and Johnson.
The mood changed inside the ground, and as the Blackburn fans mocked with 'You're getting sacked in the morning', many fans added their name to the chorus.
The supporters still got behind the team and the players, Gerrard scored a consolation goal before being handed a penalty late on, which he unusually put over the crossbar.
A long night at Ewood Park completed and Liverpool are beginning to head back towards the relegation zone.
Fenway Sports Group should have removed the current manager a long time ago.  They can't continue to dodge this decision anymore.