Despite another host of chances, the reds yet again dropped two points in their 6th home league draw of the season.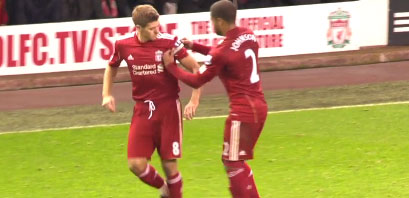 After missing a penalty at Wigan, Charlie Adam gifted Blackburn a Christmas present when he scored an own goal at the end of a Liverpool dominated first half.
The reds equalised in the second half, but not even the return of the club captain could help the reds to all three points.
Andy Carroll had the pick of the reds chances in the first half, in what was a rare start for the player signed almost a year ago.  His shot was saved well by the Blackburn keeper.
Blackburn's corner just before half time however was deflected high in to the net by Charlie Adam who was supposed to be offering protection at the near post.
The reds came out of the traps quick again in the second half, eight minutes in Skrtel's brilliant cross found the head of Maxi Rodriguez – one of the rare breed of Liverpool wingers capable of hitting the back of the net.
Liverpool produced wave after wave of attack and it was great to see Steven Gerrard introduced back in to the team with about 20 minutes to go.
Carroll sent a header agonisingly wide of the post.  In a frantic final minute the Blackburn keeper and a clearance off the line from Henley prevented the reds taking all three points.
Liverpool remain 3 points off fourth place after the other challengers also picked up disappointing draws.
Liverpool's football is much more optimistic than 12 months ago – the reds are now becoming far more difficult to beat – but Kenny Dalglish's next step is to ensure the reds start becoming as lethal as the number of chances suggests they should.
The reds have one more game left in 2011 and will be hoping to put a good Newcastle side to the sword.