Liverpool were frustrated yet again in their 7th home league draw of the season against 8th placed Stoke.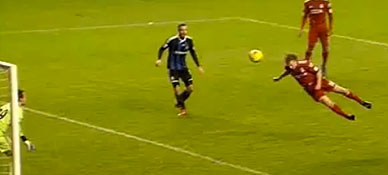 The reds started with Dirk Kuyt on his own up front and a 3 man central defence, due to an injury concern over Daniel Agger.  Andy Carroll came on for the last 30 minutes and caused a greater degree of problems for the Stoke defence – suggesting that it may have been wiser to start with two players up front.
The first half was a sterile affair with little in the way of chances for either side.  The majority of the football was played in the middle of the park as both teams insipid attacking displays were easily countered by stout defending.
Fresh from his midweek dominance, Steven Gerrard cut a distant figure, being partnered alongside Charlie Adam as opposed to Jay Spearing, appeared to tie him up with midfield battles rather than explosive drives from the centre of the park.
Stewart Downing once again failed to go past a single man in the game – the anticipation over his signing as a potential attacking threat has slowly drained – as most reds fans realise that he will struggle to become a long term option at Anfield.
The reds were in essence restricted to long shots in the first half, none of which found their target.
The game sprung into life a little in the 58th minute when Andy Carroll replaced Stewart Downing.  Immediately he caused trouble for Stoke, and Robert Huth dragged him down around his neck.  Referee Howard Webb, unsurprisingly, waved away strong appeals for a penalty.
Moments later and both Carroll and Kuyt were simultaneously dragged down by Woodgate and Shawcross.  Again Webb was unmoved.
The reds best chance was from an Enrique cross, Dirk Kuyt rose to head the ball in, but it went agonisingly wide of the post.
Liverpool do remain unbeaten at home, but despite our fine away form, the reds still have problems unlocking stubborn opposition at Anfield.