A five minute spell at the start of the second half saw United score twice before Liverpool scored a consolation goal late on at Old Trafford.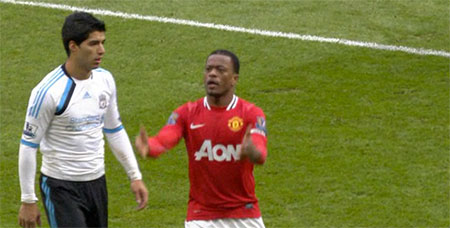 The pre match hype was very much about Luis Suarez and Patrice Evra under the TV spotlights.  The ongoing needle between the two clubs even stretching to a few thousand copies of a Man Utd fanzine being seized by police for a potentially offensive image on its cover.
The pre-match handshake which was abandoned between QPR and Chelsea the other week did go ahead here and Luis Suarez failed to shake Evra's hand, resulting in a snub from United's Rio Ferdinand.  As events transpired, Liverpool were under the impression that the two players would shake hands and Suarez apologised to his manager, and the club criticised their player.
Back to the football and it was almost a dream start for the reds as Suarez was sent through, allowing Evra and Ferdinand to collide, but Suarez' race to goal was denied.
Paul Scholes went close in the first half with a header from a Ryan Giggs cross, and at the other end Glen Johnson skipped through the United defence only to fire a left footed shot wide of the post.
There was allegedly a fracas at half time, with suggestions that Evra chased after Suarez – only to be blocked at the entrance of the home dressing room by Martin Skrtel.
United came out the second half the stronger and after Jose Enrique was unlucky to give away a corner, United capitalised.  Rooney smashing in the shot from the corner.
Just four minutes later and Jay Spearing lost possession of the ball in front of our penalty area.  Valencia who had an excellent game, found Rooney to score from close range.
Liverpool improved after their substitutions, with Bellamy, Carroll and Adam all coming on for Downing, Spearing and Kuyt.
A Charlie Adam free kick bounced off Rio Ferdinand, fast becoming one of United most dangerous players in their own box, and Luis Suarez was on hand to grab the reds goal.
It was all a little too late and the final whistle cued some over-the-top celebrations from Patrice Evra, who celebrated wildly in front of Luis Suarez.  The Uruguayan was unmoved as the referee moved in to calm the Frenchman.
Due to a combination of poor results from the other teams chasing 4th, the reds were fortunate to end the day the same number of points behind as they started.  Liverpool v United ends 2011/12 the same way it did 2010/11 with a win each and a draw.