Arsenal 2-2 Liverpool
Liverpool took a 2-0 lead before being quickly pegged back in a topsy-turvy game in North London.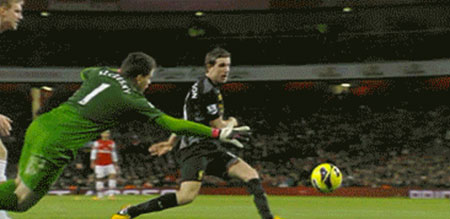 Liverpool welcomed back Pepe Reina and Glen Johnson into the starting line up, with Jose Enrique returning to the bench.  The only other major surprise was that Carragher returned to centre-back ahead of Martin Skrtel, who was made to pay for being part of the dismal Oldham defeat.
Both sides had plenty of opportunities in the first half - but it was Arsenal's defence that started the game the poorest.
Sagna slipped as Suarez powered forward and the ball fell to Sturridge.  His shot was stopped but the rebound found Henderson - who set up Suarez to fire in his 22nd goal of the season (and yes it is only January).  His shot took a deflection that was enough to send the ball past Szczesny.
Theo Walcott almost went straight up the other end to score - an ominous warning of events later in the game - but Reina did well to deny him.
As good as Arsenal were going forward, they were as bad at the back.  Both Suarez and Sturridge had good chances from inside the box to double the reds lead - but failed to take them.
The second half was a different matter as wave after wave of Arsenal attacks saw Liverpool sitting on their 1-0 lead and the midfield line retreating further and further back towards Pepe Reina.
Against the run of play, Henderson dreamed of Messi and skipped through the Arsenal penalty area, maybe a little less nimbly than the Argentinian.  Eventually he was left with an open net and poked the ball in to give the reds an unlikely 2-0 lead.
The Gunners responded straight away as Liverpool's continuing (getting sick of saying it every week) inability to defend set-pieces was in evidence.
Giroud headed the ball home to give Arsenal hope, and then minutes later Theo Walcott found himself with plenty of time near the 6 yard box and smashed in a powerful shot to draw level.
Both sides had chances to win the game, although Rodgers did bring Enrique on for Sturridge - a move more aimed at shoring up the midfield than going gung-ho for the three points.
Suarez went closest in injury time, but his shot was well stopped by the Arsenal keeper.
On balance, a good point at a ground that has not generally been good for the reds.  But not getting 3 points when you are 2-0 up is always going to sting.
No worries.  Next up the Champions. Away.