Rafa Benitez returned to Anfield for the first time as an opposition manager but Luis Suarez stole the headlines - the big greedy Uruguayan.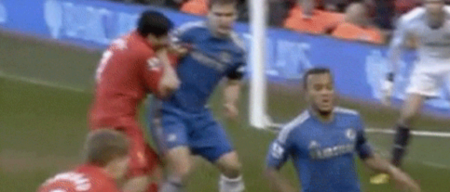 Liverpool - with little to play for this season welcomed their former boss who led the club to a 5th European Cup triumph.  Rodgers elected to bring Stewart Downing back in to the starting line up ahead of Daniel Sturridge - the former Chelsea man.
On the opposition side however, Fernando Torres was selected in the starting line up to face his former club.
But Torres wasn't to make the headlines - as his replacement Luis Suarez stole the limelight.
Liverpool were dismal in the first half.  The decision to replace Sturridge with Downing was a poor one from Rodgers.  Suarez was isolated up front - Downing lacked any hunger for the game - Gerrard, as is usual against Chelsea had a shocker, and Jordan Henderson seemed intent on finding a blue shirt at every opportunity.
Coutinho appeared to be struggling too - surprising for a player who has slotted so well in to the Liverpool XI.
Midway through the first half Chelsea took the lead when Juan Mata's corner was well dispatched by Oscar's head.
The goal failed to spark the reds into action as they stumbled towards half time.
Coutinho was replaced by Sturridge at half time and the impact was felt straight away.
Sturridge set up Gerrard who was denied by the Chelsea keeper.
The former Chelsea man then saw a striker hit the post before the reds eventually grabbed the equaliser.
Downing found Suarez who hit a beautifully timed cross into the path of Sturridge who controlled well to score in front of the Kop.
But moments later Suarez handballed in our own area, and Eden Hazard fired in the penalty.
From this point on, Chelsea slammed on the brakes and tried to play out the 2-1 victory.  But in the 96th minute up popped Luis Suarez to head in from a Daniel Sturridge cross.  An assist and a goal apiece for the reds front pairing.
Liverpool were lucky to snatch the point in what was at times a lethargic and insipid display - filled with poor passing and a dogged insistence on slow build up play.
The football though will be rememberd secondary to the other event of the match.  In the 66th minute Ivanovic and Suarez came together and Suarez appeared to place his mouth around Ivanovic's arm.  The Chelsea player showed his limb to the referee but no action was forthcoming and play continued.
After the game the images flashed around the internet and Liverpool and the player apologised for the incident.  The player himself admitting he had telephoned Ivanovic who had accepted his apology.
The FA will review the footage.
Liverpool's seasons continues to stutter as they reflect on their third consecutive draw.