Luis Suarez scored his fourth LFC hat-trick, but his first at Anfield, to help Liverpool back to 2nd place in the Premier League.
The talented front-man helped the reds inflict West Brom's first away defeat of the season in a game in which all four of Liverpool's goals had a touch of genius about them.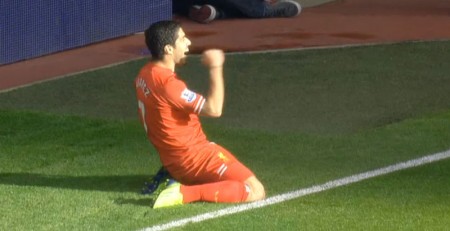 Daniel Sturridge added a peach of a goal to complete the victory - continuing his excellent form.
Lucas Leiva was welcomed back in to the side after missing last week's game in Newcastle after the birth of his child.  His return enabled the shackles to be somewhat loosened on Steven Gerrard, but it was Suarez who shone brightest today.
In the 12th minute, Suarez guided past numerous West Brom defenders before planting a cool finish in the corner of the net.  Moments later and he despatched one of the best headers ever seen on the fields of Anfield Road.  After some inter-play with Aly Cissokho, the Frenchman whipped in a cross and from just outside the area the Uruguayan fired a bullet header past the West Brom keeper.
The reds third goal arrived in the second half and it completed Suarez' hat-trick.  Again - another header - this time a little closer to the goal and from a Steven Gerrard free kick sent in to the near post.
West Brom pulled one back when they were awarded a penalty.  The only stain on an otherwise solid performance.
Daniel Sturridge - that man who usually grabs at least one a game? Well of course he had to.
In a game of delightful goals - he weighed in with a beautifully weighted chip from outside the box - the ball crisply nestling in the corner of the net in front of the Kop.
Suarez was substituted with a minute to go to another standing ovation.
His flirtation with Arsenal this summer may not have been forgotten, but there can be no doubt that Luis Suarez has returned to the fold in the manner of a true professional.
Liverpool reach 20 points after a 9 games, about a quarter of the season.  Last season, it took the reds 16 games to reach a similar tally.
Next up for the reds is an intriguing trip to London Town, to take on the Premier League's current leaders - Arsenal.