Liverpool moved ahead of Arsenal and into second place in the Premier League in a hard fought victory at St Mary's.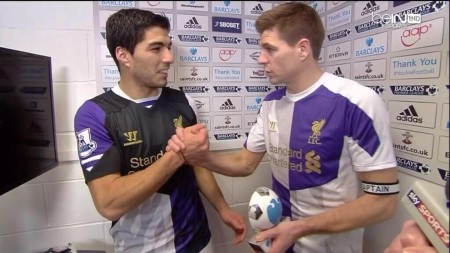 The reds have endured some difficult games at Southampton, but after a testing first half - the reds improved in the second half to ensure all three points, and the lesser-spotted clean sheet, were secured.
There was one change to Liverpool's starting line-up - Joe Allen replacing Raheem Sterling.  Luis Suarez started his 100th Premier League game for the reds.
Saints dominated large spells of the first half but their finishing, especially that of Adam Lallana was poor.  Fortunately, for all of Southampton's possession, the reds do have players with lethal goalscoring attributes.
Luis Suarez opened the scoring - effectively setting up his own goal.  He attempted the one-two with Daniel Sturridge, but the English striker failed to connect - instead Fonte got the touch that sent the ball back to Suarez and Luis beat the offside trap to score his 62nd League goal.
This goal against Southampton was a special one - meaning he has now scored against every single team in the Premier League.
Southampton pushed hard for the rest of the half - Flanagan and Johnson being exposed on the wings - good crosses being sent in by Rickie Lambert but Lallana just couldn't convert.
The reds were fortunate to go into the break still ahead.
The second half was better for Liverpool.
After a bright start from Southampton, Rodgers immediately saw it was time to make the change and sent on Sterling for a disappointing Coutinho.
The substitution had an instant impact.  Luis Suarez, top scorer in the league became the player with the most assists too when he squared the ball for Sterling to calmly slot the ball in with his right foot.  It was the 19 year olds first touch of the game on his 50th Premier League appearance.
"What does that say boss?"

"SCORE"

"Ok" pic.twitter.com/TeG4wKJnD1

— Anfield Online (@anfieldonline) 1 March 2014
The second goal killed any hope in the Southampton ranks.
Henderson and Sturridge had great chances to add to the lead before the reds won a penalty in injury time - Suarez yet again too hot to handle.
Steven Gerrard stepped up to convert and add even more energy to the fantastic travelling Liverpool fans.
With Arsenal slipping up earlier in the day the reds move ahead of Arsenal on goal difference but still four points behind league leaders Chelsea.
Liverpool's primary ambition this season will have been to ensure European football is returned to Anfield.  This victory was an important step in that direction.
LFC now have a fortnight's break before they travel to Old Trafford.  Last year's Champions are currently a sizeable 14 points behind the reds.
Tra la la la la.