If ever there was proof how badly Liverpool spent most of the £300M under Brendan Rodgers it was here on display today.
Liverpool, for the first time in a long while, had the benefit of no-midweek game.  End result - one of the reds most disappointing performances of the season.
There goes that midweek European game myth.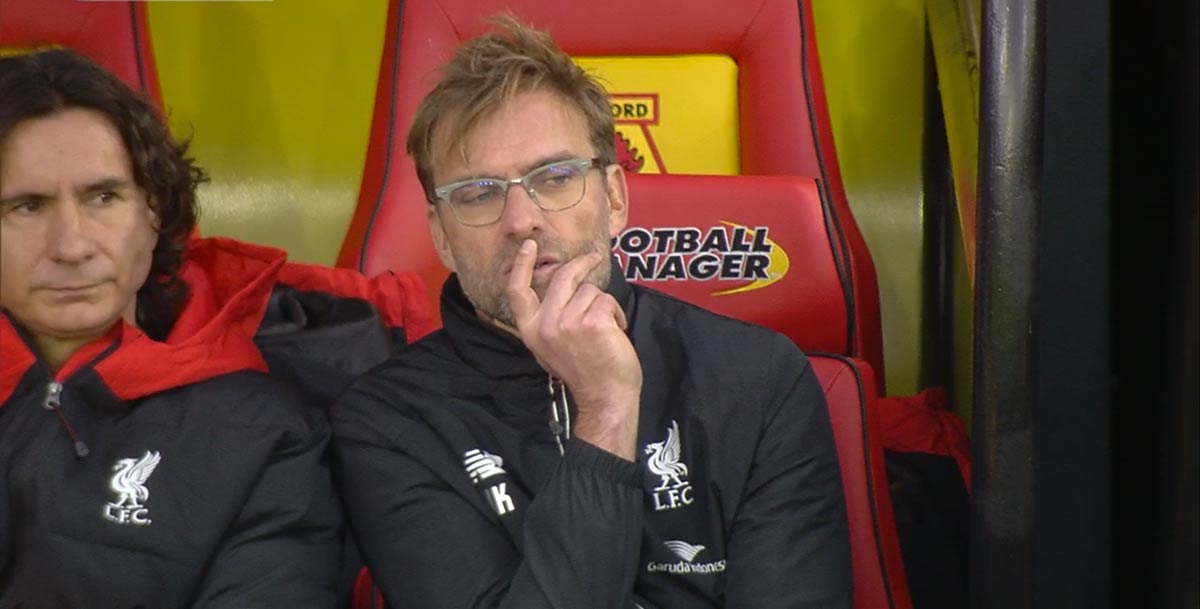 Liverpool were forced into changes.  Mignolet was ruled out with a 'tight hamstring' meaning Adam Bogdan came in - whilst with Lovren out Sakho was brought back for his first game since himself suffering injury.  Not long in - it was obvious the game had arrived too soon for Sakho who was constantly under pressure and lacked not just that one yard of pace - but probably about six.
Watford, already above Liverpool in the league, were in a rich vein of form whilst the reds have struggled in the past few weeks.
From the outset they were on the attack and took the lead in the second minute.  As typical their goal came from a set piece.  A corner was sent in and Bogdan grabbed, then bounced, then grabbed again before the ball was bundled over the line.  Replays appeared to show the ball had been kicked out of his hands by Nathan Ake - but his initial bounce of the ball had caused confusion for the referees.
Skrtel and Sakho were being pulled apart.  Lucas, returned to the side, was next to hopeless about protecting the defence.  Through balls passing by him like he were invisible.
In the 15th minute Watford were 2 up.
Odion Ighalo holding off Skrtel and firing a shot in off the post.
Skrtel was eventually removed due to injury in the 41st minute.  Cynics may have thought he may have preferred an early bath.
Origi was brought on however as Liverpool tried to go positive - Lucas, not Emre Can, chosen to slip back into central defence.
Adam Bogdan produced a fine number of saves in the remainder of the game to try to salvage something after that first goal.
But Liverpool looked to lack the fight and ideas necessary to break through Watford.
It was abject.  The reds need significant strengthening.  The moneyball strategy has been a farce.  Instead of buying gems at knock down prices - Liverpool have spent sizeable amounts on sub-standard footballers with little fight.
Although the reds started the second half better there was to be no early goal to set up a fightback and it fell to Ighalo to rub salt into the wounds when he scored five minutes from time.
Klopp shook hands with his opponents before the final whistle arrived and his journey home will have been less about coaching the current crop but more about which ones will be rapidly approaching the end of their Liverpool careers.
> Watch Klopp's post match interview
The reds are 9th and have 1 point from 12 in December.
Grim.