Tuesday 11th April 2006
ANFIELD ONLINE LFC NEWS
BOSS TELLS MARK: I WAS WATCHING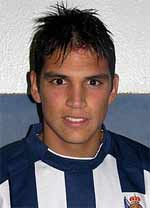 Mark Gonzalez yesterday asked if Liverpool were watching after he scored the equaliser for Sociedad against Real Madrid at the weekend. (Yesterday's story) Well Rafa was.
"He was the best player on the pitch against Madrid and that's three goals he's scored now since he went to Sociedad," said Benitez.
"I said at the time I was surprised by the decision not to allow him to join us.
"When you see the level he is playing at now, it shows we had a good case and what a good player he actually is."
The Reds will reapply for a permit shortly and Benitez believes Gonzalez has all the attributes to become a major asset in The Premiership.
"We are hopeful he will come in the summer because he can be an important player for us," added Benitez.
"He has pace, quality, can score and he works very hard for the whole 90 minutes for the team - all qualities that will help him settle in quickly here.
"You have to remember he was injured for six months and so he is improving with every game he plays, recovering his fitness and raising his level. He can make an impact in The Premiership."

Discuss this news item with other fans in our forum
Liverpool Echo