When the summer transfer window slammed shut at 5pm sharp on the 1st of September, there was a tinge of disappointment, a sense of regret amongst us fans.
It has been a long few months of on-off speculation surrounding our potential new signings, leaving the fans excited, to say the very least. Most of us, if not all, were optimistic for the future. After a strong title assault the previous season, this summer has been heralded as a stepping stone for us to land the title the following season.
On paper, many names were thrown into the hat, with those discussions centering mainly on David Silva and David Villa, to even Franck Ribery. Media sources quoted us as having a decent budget to spend on after Rafa's new contract, and we were all hyped and eager to see a signing that would rock Anfield. Even up until transfer deadline day, we had players like Niko Kranjcar, David Trezeguet, and even Julio Baptista tossed into the frame. All these names vanished into thin air at 5pm. It wasn't to be.
Most importantly, it was the departure of Xabi Alonso that left us with a big gap to fill in the middle of the park. He is Liverpool's pass master and was hailed for his long range passing, as well as his foresight and ability to read the game well before his opponents. He has had 5 good seasons with us, was often influential in the team's setup and was the best at spreading play out wide. Xabi linked up with Masch very well, Masch breaks up the play and Xabi waves his wand to start a counter attack, and this defensive midfield partnership was one that blossomed throughout the years which made Javier and Alonso complement each other so well.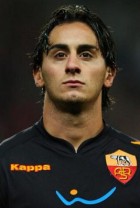 Rafa wasted no time in the market and went in for Alberto Aquilani. Aquilani was spotted by Arsenal and Chelsea from a young age, and he becomes our third Italian signing. He is hailed as a gem back in Italy and has earned rave reviews on the way he plays football. A creative player with energy, driving back and forth, he could be our box-to-box midfielder, filling in a different role compared to Xabi. Even though he hasn't laid his boots on a blade of Anfield grass just yet, I have high hopes that he is able to fulfil his potential, as Rafa rarely gets it wrong with big name signings. It's not clear if he has the passing Xabi possesses but in terms of all-rounded team play, I feel he is able to provide us with a different dimension in the middle of the park.
Another outgoing player was Spanish compatriot Alvaro Arbeloa. Arbeloa had been a fine servant for the club for a couple of seasons now, from his memorable debut against Barcelona when he kept Lionel Messi quiet, Arbeloa has cemented his status as Mr. Consistency. He was one of our reliable unsung heroes and could be counted on to put in a good shift week in, week out.
Glen Johnson was bought to replace the outgoing Arby and wasted no time making that rightback spot his own (helped no doubt by the fact that Philip Degen is arguably Liverpool's very own sick-boy. Doubts were raised at the fee of 17 million pounds, but 4 games in and he has 2 goals to his name and won a penalty on the opening day against Spurs. Right now, 17 million looks like decent business; he offers us a fresh option when he goes forward and has often been the spark down that flank. Another English player to add in our ranks, Glen looks like a vast improvement compared to Arby. There are doubts though on his defensive abilities but I've no doubt that he will turn out to be a terrific signing for the Reds.
Towards the end of the summer window, there arose a need for a new centre defender as cover due to Agger's surgery and Kyrgiakos was signed from AEK Athens. He will play 4th choice centre-back and has experience in both the Scottish and Greek leagues, winning titles in the process. His maturity and guidance will also act as a learning curve for the youngsters such as Kelly and Ayala looking to break into the first team.
Other signings included Chris Mavinga and Aaron King, although it is certain they will play no part in the first team this season but instead be blooded in the reserves for the future.
On to spending and in 2009 so far our transfers have shown that we have profited £14 million. The yanks still have a long way to go in providing us with the necessary funds to compete on all fronts. They haven't been supportive at all since their arrival, all talk but no action. Our inability to spend on other players and scouring the bargain basement for backups just shows what incapable owners they are.
This summer has been a letdown for me personally, linked to all but nothing concrete in the end. Players like Niko Kranjcar we have failed to sign as well, despite costing a miserly £2.5 million. It is disappointing because there was a need on strengthening of the squad especially up front and on the wings, however instead we are just replacing quality with quality and leaving the other positions of the team unchanged.
I am certain our new signings will do us proud but in order to strengthen our title push we have got to be spending more. Looking on the bright side, I have to go on and say that Rafa has done his best in the market with a non-existent budget.
We just have to make do with what we have and build from here. The scouts continue to work but their efforts will go to waste if H&G don't sanction the players' move. Right now, we should take our minds off transfers and focus on the season.