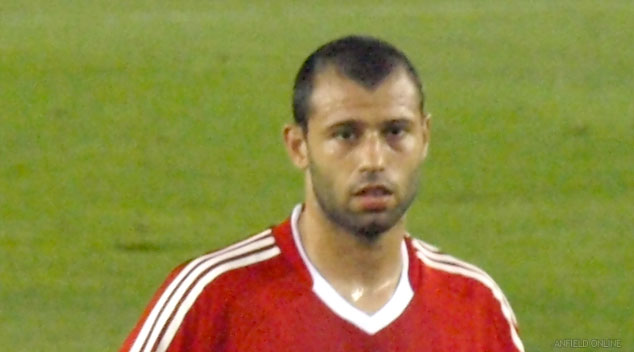 Wishes he had gone to Barcelona in the summer?
Can't handle the pressure of being Argentinian captain?
Worried that he won't be going to the World Cup?
Whatever Javier Mascherano's problem is – he needs to get his focus back and get back to playing some decent football for Liverpool. The manner in which he is started Liverpool's season – it is almost understandable why West Ham only played him 5 times.
The man everyone loves to pick on, Lucas Leiva, has been the shining light of the holding midfielders this season as Masch seems to have his mind on other matters.
It is well documented that Javier is 'struggling' on around half the salary of the big earners at Anfield. The ironic thing is if he hadn't flirted with Barcelona (who never had the funds to purchase him) he probably would have been another player handed a significant contract extension.
His agent brother probably did more harm to him than anybody with his constant media interviews suggesting it was a dream for Javier to go to Barcelona.
Benitez may well have had his hand forced to sell Alonso, but Mascherano? A player that Liverpool rescued from obscurity to become the captain of his country. I would also have demanded a bit more loyalty in that regard.
Now the contract extension for Javier (that he probably would have already received) is being dangled in front of him by Rafa *IF* he improves his performances.  With Aquilani hopefully debuting for the reds in the next few weeks, and some solid performance from Leiva, Mascherano may not be the shoe-in he probably expected to be.
Maybe Javi thinks he's the dogs swingers now that he's the Captain of a struggling South American side – but even that doesn't guarantee you football at the worlds greatest football club.
He would do well to re-focus on the club that pays his wages, the club that turned his career around, and if he doesn't then maybe we'll have to send Gerrard around.
My gut reaction to his flirtation with Barcelona this summer would have been to sell him. I don't want anybody at the club who isn't committed to play with passion.  Unfortunately, as was shown in the Alonso situation, our current owners seem more interested in removing assets from the club and if we had sold him for £50M, no doubt Rafa would have received a fraction of that to try and replace him.
As it is, with our unsupportive board it was imperative we kept hold of him.
He needs to start to repay Benitez' faith and the fans support.