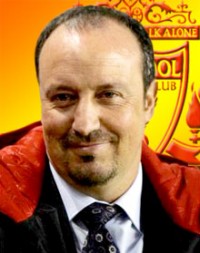 Last time it was about transfers, this time it's about what he's done with these transfers.
Common thought amongst Liverpool fans is that Benitez has trouble developing players' talents due to his apparent 'stand back-ish' approach to interaction. Where this has come from? I have no idea. It may be due to the limited amount of youth coming through the side, who knows? However, i point those who feel this way in the direction of six players; Alvaro Arbeloa, Pepe Reina, Yossi Benayoun, Javier Mascherano, Fernando Torres and Emiliano Insua.
Arbeloa, one of Benitez' best signings in his Liverpool career in my opinion. Why? The sheer shrewdness of it! Arbeloa, signed by Deportivo from the Real Madrid 'B' side was played in the heart of defence in his native Spain. Upon signing for Liverpool for a measly £2.5m, he was shifted to the right side of defence (after making his debut at left back to contain Lionel Messi) and developed his game.
Here, he continued to improve and established himself as one of the most consistent right backs in the country. Not only this, he managed to develop an attacking game and an excellent vertical jump which really came in handy during most goal celebrations. It was not long that the Spanish national team were looking at him and became the number two right back, after the irreplaceable (for some reason) Sergio Ramos.
From lower league centre back, to international right back for the European champions. Quite a rise, under the tutelage of Benitez.
Dumped by Barcelona and loaned out to Villareal, (where he would soon join permanently) Pepe Reina was a promising goalkeeper in the Spanish ranks. Coming through the Barcelona system, Reina made over 30 league starts for the club before they chose to cement Victor Valdes between the posts and let Reina go.
After 3 seasons playing constantly for El Submarino, Reina was picked by Benitez to be the last line of defence. Largely unknown by those on Merseyside, he quickly became a hero in the FA Cup Final penalty shoot out against West Ham.
Since then, he's been a major part of the side and broken several long-standing records of those greats before him, including Ray Clemence and Bruce Grobbelaar. During this time, he has risen to be one of the finest keepers on the land and emerging as Iker Casillas' understudy for the Spanish national team – lets face it, no one is knocking out the part time captain of Spain – while leaving former team-mate Victor Valdes in his dust.
All this for £6.5m? Bargain, considering he cost less than Craig Gordon and Petr Cech individually. Equal best signing along with Arbeloa, since Rafa made the move to the Mersey.
Benayoun, the Israeli superstar. Plucked from West Ham for £5m, he has gone on to be a firm favourite of the Kopites and one of the most dazzling players in Europe. Playing a key role in Liverpool's run in to a second place finish in the Premier League last season, Benayoun has not looked back and cemented a starting spot in Benitez' first XI.
He represents what Rafa yearns for in his players. A player ready to fight and battle his way into the side. This instilled ideology has led Benayoun to scoring winners against Fulham and Real Madrid, and a late equaliser (his second for the game) in the 4-4 heart-stopper against Arsenal at Anfield.
The timing of these goals show his never-say-die attitude and his growing reputation as a player, being able to produce in the biggest of games.
This coming from a man who was playing decent football in a Hammers outfit looking to finish around the mid-table, to a player for the big occasions and a massive part of Benitez' plans.
His arrival to the Premier League was well-documented along with his friend and fellow Argentine, Carlos Tevez, but Javier Mascherano had a very difficult start to life in England. Making a handful of appearances for the first team, and being dropped to the reserve side for West Ham, Mascherano was tipped to go back to his native country and re-establish himself. Benitez had other plans, taking the Argentine international to the Liverpool on loan.
In his time at Liverpool, Mascherano has developed his game to be compared to the great Claude Makelele and even surpass his reputation as the best defensive midfielder on the planet. What he lacks for in attack, he makes up in his immense work rate, superb anticipation and terrific tackling ability.
When Diego Maradona was appointed head coach of the Argentina national side, he quickly pointed to Mascherano as his captain-to-be, praising his heart, passion and soul for the game and Argentina.
Signed for a touch over £17m, 'Monster Masch' has become an unsellable entity for Benitez' plans for the future of the club, showing divine passion for the club for most of his time.
Another Argentine in the first team who has upped his level since arriving to the club is Emiliano Insua. Signed for £1.3m from Boca Juniors in Argentina, Insua has made the left back spot his own for the Reds after an impressive debut season in the 2008/09 campaign, keeping Italy international Andrea Dossena and the ever reliable Fabio Aurelio out to get their game time on the wing.
Dubbed as one of the best young fullbacks in world football, Insua has made his first appearance for the senior Argentina national side as part of their successful World Cup qualifying campaign.
With the intrinsic ability to bomb forward and support in attack, as well as being very capable in defence, the twenty year old has sharpened his game under Benitez and has many years ahead of  him to become a memorable Liverpool and Argentinian player.
Finally to the new Kop hero, Fernando Torres – El Niño, Liverpool's number nine, the heir to the throne, the list goes on as long as the superlatives to describe him.
It only takes Torres no time at all to describe the impact Benitez has had on his game since arriving from Atletico Madrid for £20.2m in the 2007/08 season.
After rejecting many offers from massive clubs around Europe, Torres signed for Liverpool and showed a sign of things to come in his first home league game against Chelsea, by skinning Tal Ben-Haim and slotting past Petr Cech.
Since then, he has become arguably the finest striker in the world amassing 50 goals in 72 league starts – a Liverpool record, and fourth best all time in the Premier League. Not bad for someone who has battled several injuries since he joined for the club.
His international career, just as sparkling. From being highest goal-scorer in World Cup qualification for Spain, to a memorable Euro 2008 in which he scored the winner in the final against Germany (1-0) and was named man of the match, to an outstanding Confederations Cup where he recorded the fastest ever hat-trick for a Spaniard in the national side (after 17 minutes) in which they finished third.
In interview after interview, to his new autobiography 'El Nino – My Story', Torres is full of praise for his gaffer for transforming him into one of the deadliest strikers in football.
During a time where loyalty in football is rare, and where world-class strikers are fetching obscene amounts of money, for £20.2m Fernando Torres has been worth that and hundreds of times more both on and off the pitch.
Benitez has also turned many others into quality players, including; Dirk Kuyt (15 goals and 9 assist last season, as well as 7 goals this season), Peter Crouch (from Championship striker to England international), David Ngog (for £1.5m, turned into a really promising youngster and scored 6 goals this term), Momo Sissoko (who played as a striker for Auxerre before signing for Valencia with then boss Benitez, to turn into a fine defensive midfielder), and Daniel Agger (plucked from Danish league side Bromby and become one of the best ball playing centre-backs in the world).
Player development is part and parcel of any managerial career, and Benitez is one of the best at doing so. Each manager has black marks on his record, but overall Benitez has been excellent in spotting talent and turning promise into quality.