I bought the new yellow Liverpool away shirt the other week. Looks like sh*t on me. Yellow? What was I thinking?
My wife was a bit more diplomatic. She said something like, "Yellow- what the f*** were you thinking?"
Brendan Rodgers must experience a similar feeling of buyer's remorse every time he looks at his new summer signings. And he has an army of wives to remind him that he's done the wrong thing.
"Balotelli - what were you thinking?"
To compare the Italian with Suarez is trite, like having a go at my yellow top for not being the red one with the collar from two seasons ago. Yet, the temptation to do so is seemingly irresistible.
I read one match report from Wednesday night where Balotelli's performance was awarded 4.5 out of 10; a harsh assessment which ignores the few good moments he had, particularly in the first half, where he held the ball up well before bringing others into play. There were, of course, plenty of negatives to dwell on: the dallying with the ball; huffing at the final whistle; the endless falling around, which seems all the more needless when compared with his illustrious predecessor's capacity to stay upright when the advantage was on - a street fighter half his size.
Again, it's all too easy and perhaps unfair to beat Balotelli senseless with the 'you're-not-Suarez-stick'. However, grasping at pockets of positivity in his play isn't enough. Ultimately strikers are judged by their goals, and he has scored one in seven games; a paltry return remarked on by Rodgers at yesterday's press conference, and one that has contributed to his manager now facing the toughest test of his career so far.
To understand the challenge he faces, we need to look at how he got here in the first place.
How did Liverpool finish 7th in 2013, then proceed to arguably weaken the starting eleven by replacing Reina and Carragher with Mignolet and Sakho (the rest of the team remained broadly the same), before finishing second at the end of 2014?  It's similar to asking someone how the price of their house doubled in the space of two years, the answer is - who cares? Everyone's too drunk on success to ask questions at the time. It's only when the bubble bursts that the naval gazing begins.
The team overachieved last season. "One year ahead of schedule" was how the owners described it.
A herculean effort by the manager, which, in addition to Champions League football, has been rewarded by the creation of a rod for his own back. Anything less than second place this year and we're in recession.
So how does the team get back to where it left off last season? The answer is - it doesn't. Replicating last year's high intensity harum scarum approach to games was never going to be sustainable with the introduction of midweek Champions League games - with or without Suarez.
Gerrard - the target(ed) man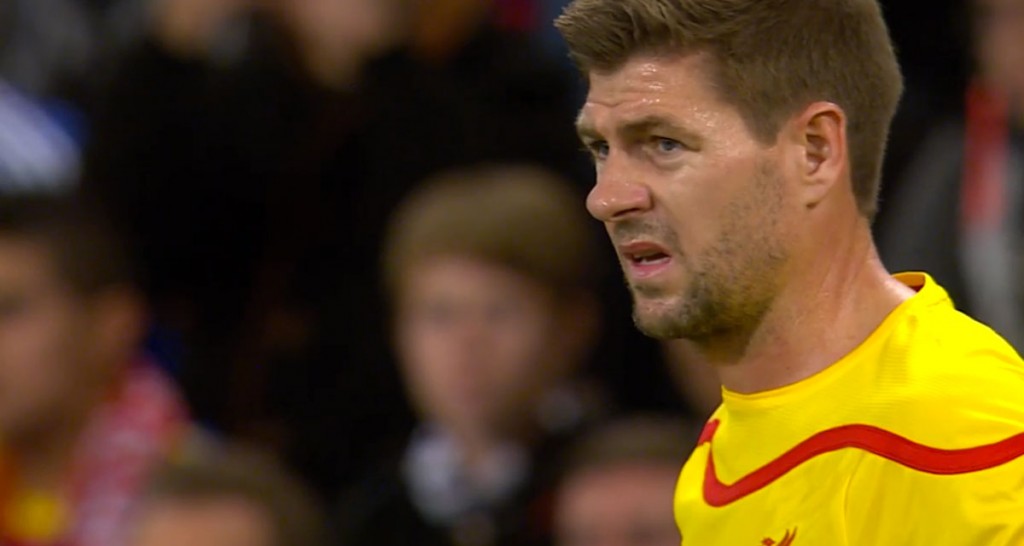 Liverpool need to start addressing the frailties that last season's brilliance allowed the club to ignore, starting with the isolation and ultimate targeting of the captain. In possession, Gerrard is arguably still our best player, and without it he's arguably the worst; a sitting duck often found languishing in the 'third' centre back position, consistently targeted by pacier attackers.
Recognising the problem is one thing and the easy part (ignoring the fact that criticising Gerrard is still a taboo topic for many fans); solving it is quite another.
3-5-2 would require the return of Sakho or playing Toure (shudder), while playing a higher defensive line not only squeezes a midfield already congested by Balotelli's penchant for dropping deep, but also robs Gerrard of the space to dictate the play from the deeper regista role.
The third, and most viable solution, is to play him further forward and in less games. As well as keeping the 34-year-old's legs fresh, this would allow Henderson to drop deeper and form a mobile midfield partnership with Joe Allen, when he returns from injury in a couple of weeks.
Although Allen is still to convince many Liverpool fans, his energetic pressing and positive ball retention make Liverpool a better side. Perhaps Allen's problem with the fans is one of perception - you don't score many fantasy football points without goals or assists.
None of this will happen though. As opposed to adopting a transition approach, I firmly believe that Gerrard has decided this season will be his last, and he will play every game- injury permitting. Let's hope he can rediscover his form and go out with a bang.
There are, of course, other problems to address. Column inches have been devoted to Liverpool's defensive shortcomings, however, despite being undone by another set piece in Switzerland, it was offensive errors that ultimately cost the team, with a frustrating inability to stay onside coupled with fluffed finishes from Markovic and Sterling proving costly.  Those chances go in, and we're feeling all warm and fuzzy, glowing about securing a tough away win without performing well. Such are the thin margins that dictate the conversation.
And so the crowd looks to the treatment table for news of their new talisman, Daniel Sturridge, someone who, unlike Balotelli, is willing to make the runs and receive the ball inside the penalty area. Someone to get on the end of the Italian's lay-offs. Someone to convert the odd chance.
And yet, in all of this there is the danger of viewing the striker's return as a panacea. It's worth remembering that last season he was merely the support act- albeit the prettiest of bridesmaids with 22 league goals.
The problems run deeper. The recent indiscretions of Sakho, Balotelli (refusing to applaud the supporters in Basel) and Coutinho (snubbing the manager after his withdrawal in the same game) suggest signs of a deeper malaise that wasn't evident last year.
In the case of Sakho it appears clear that Rodgers no longer rates him and will look to offload the defender during the next window. This is surely a mistake. I may be in the minority of supporters who believe he is a good defender- better than Skrtel- who, given time, would mature
into an excellent one.
The rhetoric around Sakho will always remain neutral-to-positive, similar to the Gumtree advert for my yellow jersey, which will make no mention of "looking shite on pasty Irish lads." But make no mistake- his days under Rodgers are numbered.
Unlike my yellow shirt however, all is not lost on the 117m worth of talent acquired by Brendan Rodgers in the summer. But they need to gel quickly.
West Brom was Rodgers' first game in charge back in August 2012. A 3-0 away defeat that day was largely met with a healthy dose of perspective and patience.
A similar result this weekend will be afforded no such luxury.

Article by Eamonn Bermingham
Fan of Momo Sissoko and cheese slices, though never together. Australian-based Irishman.You can follow Eamonn on twitter