Spurs were supposed to be a nuisance. Liverpool would get edgy, that was the script.
It was torn up and rewritten inside two minutes. Kaboul and Dawson were the most nervous people inside the stadium, the former dancing round like a new born foal to open the scoring, while the latter was on the pitch less than a minute before gifting possession and ultimately goal number 29 of the season to Luis Suarez.
Dawson clearly didn't think Suarez was there. When will defenders learn? Luis Suarez is always there, hiding under the beds of centre halves up and down the country. He is the quintessential bogeyman.
Not only has the Uruguayan now broken Robbie Fowler's record for goals in a Premier League season, but he's three away from surpassing the record of 31 goals in a 38 game Premier League season, jointly held by Ronaldo and Alan Shearer, both of whom took penalties for their respective clubs. I need not remind you that Suarez doesn't take spot kicks, or that he didn't enter the fray until game number six. Respect, my friend.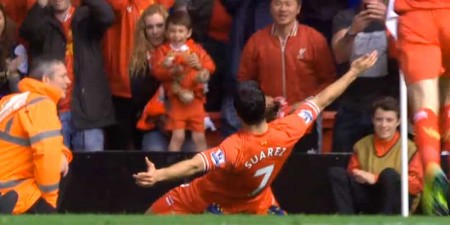 Two more second half goals, three more points, and with all that we're top for the first time since Christmas Day. Can we start to panic now, please? I really feel like having a good old panic. Our cool exteriors exude a certain Fonziness at times, but inside Liverpool fans are one big bag of nerves. The destiny of the league title is in our own hands and all of a sudden the boiler plate response, "No, no, we're the underdogs, happy with fourth," simply won't cut the mustard.
Dream big, talk small
Until now we've saved our dreaming of titles for sneaky Whatsapp chats with fellow reds, but never on the main thread, oh no. Never on Facebook or, for fear of mocking, within a 50km radius of a United fan. It's become part of our DNA; conditioned to caution. Dream big, but talk small, that's been the rule.
It's a justifiably risk-averse approach that's the product of a near quarter century of underachievement, Istanbul aside. And although we claimed the biggest prize of all in 2005, a title this season would be even more satisfying.
Istanbul was that kiss and a grope you stole with a too-good-looking-for-you brunette in a dimly lit nightclub during the early hours of a Sunday morning. Punching divisions above our weight, the journey from near Greek tragedy against Olympiakos to unlikely shootout success against the Rossoneri was a storm of bravado that blew past leaving everyone with a hangover and wondering what the hell had just happened. Liverpool weren't a bad side in 2005, but to give it some context we'd finished the league season on the same number of points as Bolton - a full 37 behind Chelsea. Winning the European Cup papered over some gaping cracks. It was, in a way, akin to putting lipstick on a pig.
But league champions don't wear make-up. Their perfect bone structure and unblemished skin require no embellishment. League champions are, by very right, the best there is.
Part of me longs for the stress-free good old days when we could focus on cheering against United at this time of year.  F**k it, part of me longs for a month ago when we found ourselves snuggled in the safe middle class bosom of all-but-secured Champions League football, removed from the chasing proletariat yet guarded from the need to converse in a meaningful way with the aristocrats from London and Manchester.
Yet here we are in the thick of it, six games away from something special. So much for our plan to win the league by stealth. We're no longer the elephant in the room - every man and his chihuahua are talking about us winning it now.
In retrospect, the club's execution of that strategy has been abysmal. Suarez is about as subtle as a kick in the balls. Bombing about thumping top six sides four and five nil was always going to arouse suspicion. Shame on us, and the obvious way in which we've gone about our business; more Lloyd Christmas than Keyser Soze.
Now that the secret is out, I'm increasingly finding myself fumbling around like a kitten trying to bury its first sh*t, not really knowing what to do or say. Perhaps the Premier League should consider reinvesting some of that TV loot into teaching supporters how to cope with situations like this. A sort of finishing school for fans looking to develop the gravitas required to graduate from sideline heckler to keynote speaker.
But in spite of the peculiar goings on inside my little head, in a strange way I can see tension being less of a factor for the team.
Nerves?
Nerves are a different animal when you're a Mourinho side set up with six across the middle to grind out a cagey one nil. I'm not saying the Liverpool players will feel no nerves during the run-in, but Brendan Rodgers has orchestrated a style of play so beautifully fluent and ruthlessly attack-minded that it somehow lends itself to a more carefree approach. There was a fervour inside Anfield on Sunday rarely seen since the Champions League semi-final of 2005, yet the players took it all in their stride. Coutinho, Suarez, Johnson and Sterling each did enough to justify a man-of-the-match award, with the latter just edging it.
In a world of football clichés, 'joy to watch' is up there with the worst of them, but this Liverpool side do make for some pretty delightful viewing. With Suarez and Studge accounting for 49 of our 88 goals, it was somewhat appropriate that the camera flashed to a smiling Ian St John on Sunday, one half of the last Kop duo to surpass a combined-total of 50 league goals in a season. I wonder what he makes of it all. As a team, Liverpool have scored more than four times as many goals as Crystal Palace, yet conceded the same amount. Despite finishing seventh last year, it's early April and we're a smidgen shy of 2/1 to win the league. We're on the road to 89 points and something resembling footballing salvation.
It's a funny old game, Saint.

Article by
Eamonn Bermingham
Fan of Momo Sissoko and cheese slices, though never together. Australian-based Irishman.
You can follow Eamonn on twitter