Liverpool march into the final quarter of the Premier League season poised to return European football to Anfield - but their most powerful weapon appears to be to continue causing consternation amongst the opposition.
The reds are currently 2nd, albeit on goal difference and probably a slightly elevated position due to Man City's fixture backlog.
Nonetheless the improvements on Brendan Rodgers first season have been clear.  Such has been Liverpool's entertainment factor on the pitch - the memories of two unimpressive transfer windows have been put aside for debate at a much later date.
Raheem Sterling has grown in stature in 'the difficult second season'.
Luis Suarez burst back on the scene after completing his ban, and his brief affair with the Gunners, and been the magician of the team both with a bag of assists and a sack of goals.
Sturridge has further cemented his place as one of England's top strikers (if not the top striker) - the move to Liverpool under Brendan Rodgers turning around what looked to be a career of under-delivery and loan deals to that of a player 'capable of 100 England caps' as proclaimed by Hodgson.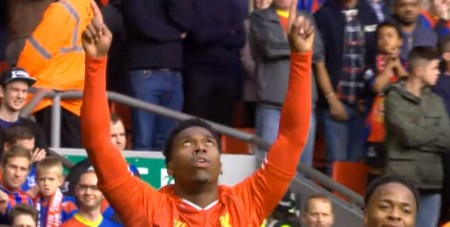 Liverpool are still outsiders for a title tilt amongst the statisticians and bookmakers - a near perfect 10 games is required - but what does look increasingly certain (failing a monumental collapse) is that at the very least some form of European football will be returned to the club next summer.
A top three finish would ease some substantial pressure around the club over a busy summer, a top four finish would still require a potentially tricky qualifying game.
Supporters of Liverpool can be happy with the progress so far, and some dare to dream about the impossible - a 19th league title.  The first for 24 years, in what is a symbolic 25 years since the Hillsborough anniversary.
But despite all the questions over 'the defence' and the 'lack of experience' - Liverpool's players and manager do have a passion for an element that could be their secret weapon. Unpredictability.
Liverpool conceded three times last weekend at home, but still managed to win.  Yesterday we used our one shot on target in the first half to score and take arguably an undeserved half time lead.
Last month we had finished a game off within the first 19 minutes - a sensational spell of football that saw the reds take a 4-0 lead - against the league leaders.
Gerrard's role has already undergone significant change this season - and despite many's reservations the results have still been positive.  Yesterday another unpredictable switch - the return of the diamond.  Admittedly it required a early second half change to vastly improve Liverpool's play, but it wasn't the only thing that changed yesterday.
In recent weeks Daniel Sturridge has been the focal point in the centre of attack, with Suarez acting the wandering assassin.  Against Southampton the roles were reversed - causing an impressive centre-back pairing at St Mary's to look like total strangers.
In a post-match interview Steven Gerrard alluded to the ability of the pair to provide the perfect foil for each other.
"If teams want to play 2 v 2 against these two (Sturridge and Suarez)... All the best."
Amongst our final 10 games we still have to travel to Man Utd, and welcome Spurs, Chelsea and Man City to Anfield.  Under normal circumstances Liverpool fans would be picking apart fixtures - 'a point here would be good', 'we need to win at least one of these' etc.
However, the reds unpredictability this season has almost ruined such debates.  The possibility of a 5-0 demolition of Chelsea or Man City almost seems entirely plausible.  Or even both.
Brendan Rodgers will be quietly sticking to his 5-game theory.  10 points every 5 games. 10 points every 5 games. 10 points every 5 games.
If the reds continue to achieve that then they will finish in the top four.
But Liverpool have been so unpredictable this season in the Premier League that they might unpredictably win it.
Enjoy the ride.