How refreshing it was to see Brendan Rodgers warming the touchline with the broadest of smiles, applauding a somewhat erratic long-range effort from Balotelli on Sunday afternoon.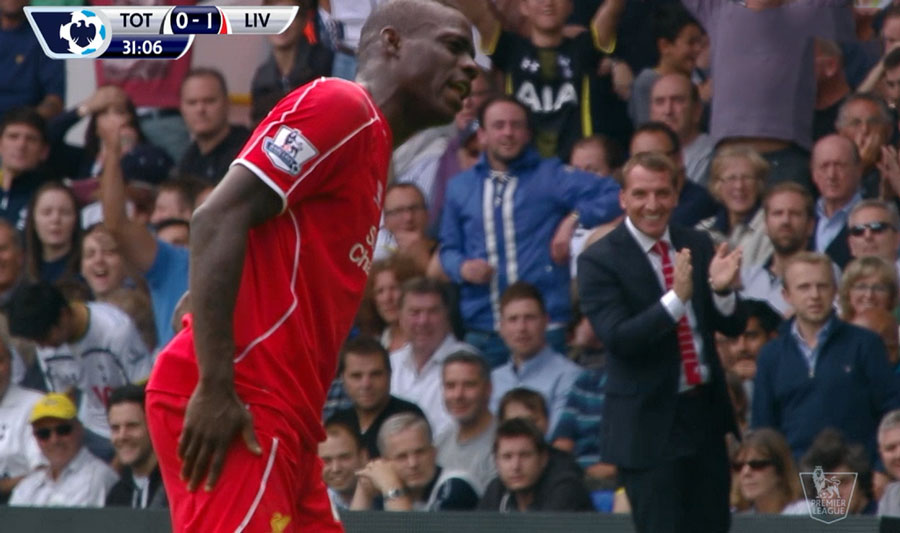 It's not that you don't see managers apply the wry touch now and again when one of their players has just done something a bit daft - it's just that a four goal cushion is usually required to arouse such a reaction.
We were bossing the game away to a top ten team, displaying glimpses of the swashbuckling style that brought them so near to the title
- Eamonn Bermingham
Liverpool were one up with a full hour to play, yet the Irishman felt it within himself to enjoy a lighthearted moment at the expense of his team's new enfant terrible.
And why not?
His side may only have been enjoying the slenderest of advantages, but were bossing the game away to a top ten team, displaying glimpses of the swashbuckling style that brought them so near to the title in May.
Spurs had been so awful in the first 45 that I thought their inevitable second half improvement could see us regret failing to score more than once. Pocchetino would throw a few teacups around, bust out a few swear words in Spanish and after the break we'd see something more resembling the high pressing Southampton from last season.
Fifteen minutes later it was 3-0. Gerrard dispatched from the spot (anyone who thinks Joe Allen should've stayed on his feet- Liverpool fans included- has lost touch with reality) before Moreno showed Andros Townsend a clean pair of heels, ran half the pitch and rifled a third into the bottom corner. Impressive as the finish was, the powerful run was even more so- Townsend may be a donkey, but he's a very fast one, and Moreno left him for dead.
So, just the three goals then, which must be a cause for concern after our 5-0 win at White Hart Lane last season. That'll be cos we sold that Suarez lad. Obviously.
Does anyone actually like international football anymore?
- Eamonn Bermingham
Nevermind, eh. We've now lost just twice in 22 league games. The only thing that can stop us now is an international br..- oh wait. The September internationals get my goat every year, and this one is no exception.
Does anyone actually like international football anymore? A four week tournament every two years is scant return for all these annoying disruptions, (not to mention the endless fretting about the wellbeing of my fantasy football players).
Still, at least I'm not heading off to spend the week with Roy Hodgson. For Liverpool's four England players (Johnson and Lallana would make it six) it must be akin to being forced to go and stay with your boring old great uncle. I can picture the scene as Rodgers marches the lads up to the door at Lancaster Gate where Uncle Roy is there to greet them, complete with a Christmas cardigan and cheeky little socks and sandals combo.
A jovial clap of the hands and "Hello lads" from Roy is met with an adolescent murmur from the boys, heads bowed, collective hands in pockets and feet kicking the ground. And off they head for few days of fun with Andros Townsend and co.
If they don't lose the will to play football ever again, there is a home game against Villa to look forward to, followed by the small matter of Champions League football returning to Anfield.
These are exciting times to be a Liverpool fan. For the first time in years we have genuine options for every position on the pitch (goalkeeper aside) and a manager with the tactical nous required to successfully deploy them in a range of formations.
Whilst the flexibility offered by an inventive coach is undoubtedly a plus point for the season ahead; Sunday showed us that, while the diamond may not be forever, it'll do for now.
But that's a conversation for another day. For now, strap yourselves in for some Eurotrash.
At least I won't have to spend next weekend filing my briefs every time Sakho has the ball at his feet.

Article by
Eamonn Bermingham
Fan of Momo Sissoko and cheese slices, though never together. Australian-based Irishman.
You can
follow Eamonn
on twitter