It's one of the classic debates for all Liverpool supporters - just who would make it in to your all time reds XI?
Do you pick a team based on how many trophies each player won, or on raw natural ability?  Do you pick a player with outstanding qualities who just happened to be at Liverpool at the wrong time?
Over on the LFC Reds Liverpool forum this debate has been underway this summer.
Across 9 categories they voted for 11 players and a manager to build up a greatest Liverpool XI.
To keep the focus on the players a 4-4-2 formation was chosen from the outset - the formation that served Liverpool so well during the most successful eras of the clubs history.
Here is the combined team from all the voting categories.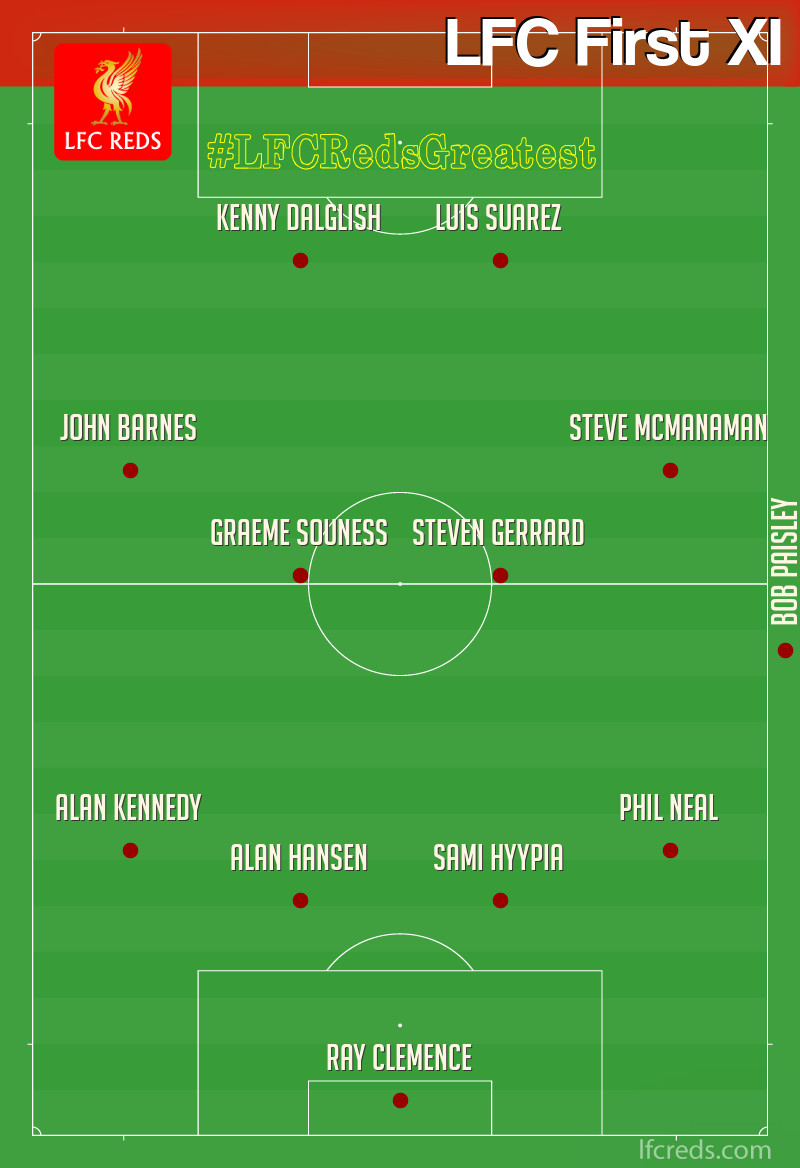 LFC Reds Greatest XI: Clemence, Kennedy, Hansen, Hyypia, Neal, Barnes, Souness, Gerrard, McManaman, Dalglish, Suarez
Bob Paisley received the most votes as greatest ever manager, and the team contains a number of the legends from his time in charge.  Plenty of debate was had with regards to forwards but both Dalglish and Suarez were regarded as the two most naturally gifted forwards to have ever worn the famous red shirt.
Here are some of the comments made ahead of voting.
Just has to be Rushie and Kenny. Utterly lethal and made us what we once were. The very best... - MarkMitt

Really difficult this one. Robbie was my favourite player during his first spell with us and Rushie is as good a goal scorer as you'll ever see. But Luis is the most gifted footballer I've seen play for us and as someone else said on here you cannot have a greatest ever LFC side without the King on it so my choice is those two. - srslfc

How much would you pay to see a prime Luis play with a prime Kenny? - Magillionare
Some of the voting areas were exceptionally close so a runners up team was also created.
In this side players from the modern era being combined with players even further back in the past than Paisley's arrival.
The second XI.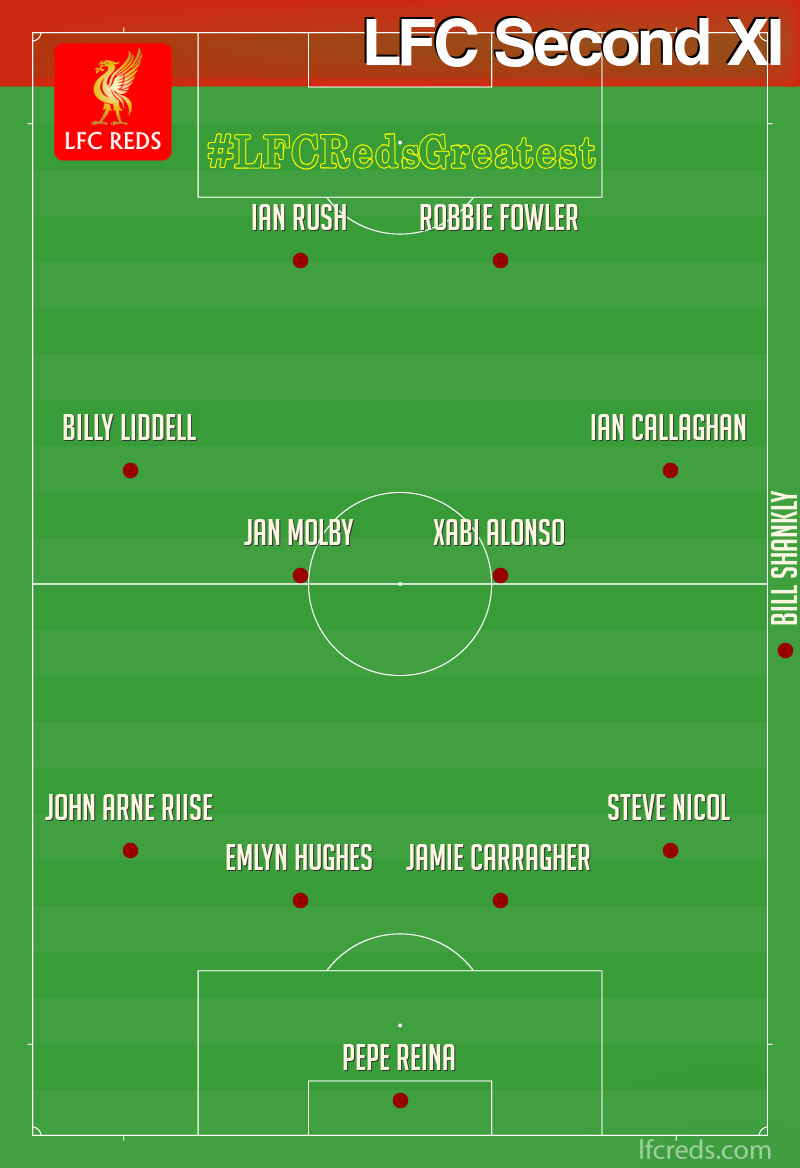 LFC Reds Second Greatest XI: Reina, Riise, Hughes, Carragher, Nicol, Liddell, Molby, Alonso, Callaghan, Rush, Fowler
Liverpool's second eleven, with Molby and Alonso, would have been able to spray passes all over the pitch and with two prolific hitmen in Rush and Fowler goals surely would have flown in.
The centre of midfield presented more difficulty - here's what some fans said:
"Gerrard has to be my first pick, he is simply put the best all round midfielder ive ever witnessed. Second pick is much more difficult." - Orchard Red

"Hardest decision ever !!!  Blessed with so many brilliant midfield players over the years, Stevie would have course have to be my number one, but like so many have already mentioned the likes of Case, McDermott, Ray Kennedy, Souness, Whelan, Alonso, Mascherano etc etc..oh my head hurts, how lucky have we been though over the years to see such quality in our midfield. - MsGerrard

"I think it should be remembered that all the midfielders mentioned in this thread could and did score goals for us. A thing that has been missing in recent years is goals from midfield, Ray Kennedy scored 51 goals for us. - billy1
What a game it would have been to have seen these two sides in their prime face off - and which team would have won?