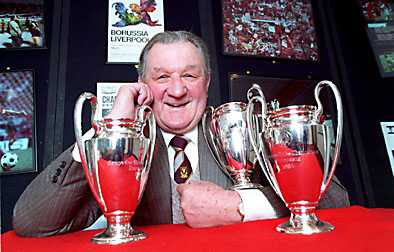 by Alex Kirkham
Bill Shankly,  Bob Paisley. Two names, which define the history of a club, two names, with which hundreds of images come rushing back of images of glorious European nights, another League title, Toshack heading to Keegan, Fairclough bursting through on a European night remembered for centuries, the Reds first FA Cup, the sight, as thousands of Scousers invaded Rome, by hook or by crook, to see their side in their first European cup final, armed with Red and White chequered flags.
Those are the foundations, of which this great club are built upon.
Bill Shankly, pulled this club up from being on their knees, into a European force feared by all.
'It was my idea, to build Liverpool, into a bastion of invincibility', those were the words of the man, about his targets as the manager of Liverpool.
Had he managed the club at the other side of the East Lancs Road, maybe he'd have been knighted like Mr Ferguson, who was acknowleged for winning the treble, but i suppose bringing a club off its knees, and into one of the greatest sides in Europe isn't much of an acheivement.
But Shankly wasn't overly interested, if interested at all in being acknowledged by the people at the head of our country, the only acknowlegement he seeked, was those of 'His People'.
His People were the ones who worked all week on the docks, or in other jobs up the road, and came and stood on the Kop, week in, week out, singing and swaying.
The love for Shankly was shown the day he retired, it didn't just move the city, it rocked the footballing world to its foundations. Bob Paisley, Shanklys right hand man for years, was now in charge of the side Shankly had built. Paisley took Liverpool to new heights, heights which saw them win three European cups, and become the greatest side in Europe. Like Shankly, Paisley's efforts were not recognised highly enough by the country's elite, but he was classed in the same high category as Shankly to any Liverpool fan.
If Shankly's side had ruled England, Paisleys ruled Europe, as he made the jump from UEFA Cup winners, to European Cup winners, and gave Liverpool some of their greatest European nights ever. Both had different ways of playing, both had different ways to approach the Media, Management, and Fans, but they both had a love for club and both made Liverpool what they are today.
Now we have Rafa Benitez, after leading us to two European cup finals in his 4 year reign, Liverpool are now chasing the Holy Grail, the Premier League.
As the Banner goes, "Shankly laid the foundations, Paisley built the house, now Rafa's doing the garden".