Is anyone else getting sick and tired of people saying that Andy Carroll will "come good" and that "he's only a young lad" and "we must persevere with him"? Those things may all be true but this is the Liverpool first team he's playing in and we do not expect someone to learn their trade there.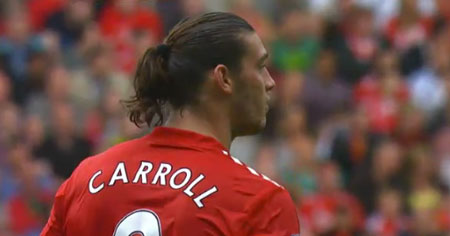 There's no doubt that Liverpool paid way over the odds for the guy last January when they did not need to hurry into such a purchase. It was the first of the desperate moves that have clouded Kenny's return to the club. It makes all the more sickening the rumours that we turned down £35M and Sturridge as Chelsea's first bid for Torres. If we'd have held out for £40M and Sturridge we'd now have a player the same age as Carroll who has played 1 less game than Carroll this season but scored twice as many goals (12 compared to 6) including 10 in the league. And we'd still have had £40M to spend as well.
It doesn't seem good business sense to necessarily sell Andy Carroll because the price we'd get for him would be likely in the region of £15M and a £20M loss is hard to swallow. However, we cannot continue to  suffer whilst waiting for an improvement and who can possibly argue that at the moment he is simply not good enough to be in the starting eleven or even deserving of a place on the bench. Admittedly this season we have few other options but the summer must see a change of strategy with our young striker.
If the owners are not prepared to suffer the financial loss on Carroll then he must be loaned out for probably a couple of years. Playing in a different team (Stoke spring to mind anyone) he would get first team football without the same level of pressure and expectation. We should review his progress at the end of his first loan spell and assess his market value at the time.
Whether he ever returns to Liverpool is questionable as his style of play is totally contrary to the kind of football Liverpool are expected and need to play. When he is on the field we tend to resort to hoofing balls up to him to hold up and our inexperienced midfielders don't get forward quickly enough to support him. Admittedly Carroll is decent at holding up the ball in this way due to his strength and size but playing any other kind of ball to him is a waste of time and an automatic loss of possession. I'm 41 and have never played football to a high level but I reckon I could beat him in a sprint over 30 yards. That is simply not good enough for a striker at a club like ours. In the modern game you have to have more than one string to your bow.
Dalglish is in danger of allowing Carroll to cost him his job at the club. We all know how stubborn he is and this has shown more and more in his dealings with the media this season. The recovery plan that he will be asked to produce to the owners at the end of the season SHOULD involve letting Carroll go, at least on loan. If he refuses to admit he was wrong on this one and perseveres with him in the first team then why would our results be any different next season? By Christmas if Carroll hasn't gone then Kenny surely will instead.