Fulham have denied that Clint Dempsey has joined Liverpool after an article on NESN.com - the website owned by Liverpool owners Fenway Sports Group.
Earlier this morning the website posted that Clint Dempsey had joined the club.  Liverpool are in the region training ahead of their opening pre-season game at the weekend.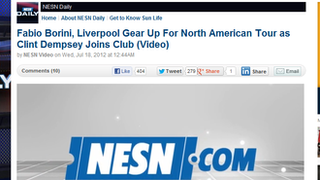 The BBC quote a Fulham spokesman as saying:
"It is totally not true. We have not received any bids."
Shortly after this comment - NESN amended their website article - removing any reference to the Fulham player.
Rumours have been circulating about a £10M deal for the American forward - although media sources travelling with Liverpool FC have suaid that the deal, if any, is still some way off.