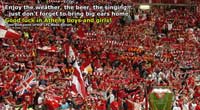 Thousands of Liverpool supporters are gearing up for the trek to Athens this weekend. Some fans have already left as package deals, flights connecting through European countries and probably even Taxi's (!) make the trek to the distant shores of the European continent.
Liverpool Football Club are one of the world's best supported teams. It is difficult to imagine any other club with a fanbase as dedicated as our own.
The whole ticketing saga has been a complete farce from beginning to end. An embarrassment for the tournament, UEFA and our football club. To allow only 17,000 tickets for Liverpool supporters has been nothing short of a disgrace. The Greek FA have alledgedly been helping the ticket tout industry, according to claims by the BBC that some touts had received their allocation from that national FA.
The average football fan has been shafted good and proper on this one. Michel Platini needs to get his priorities sorted.
A lot of fans will be left at home, but no doubt Liverpool will be awash with colour as yet again we are proud of our great club as they make yet another trip to attempt to reach the pinnacle of European sport.
If you're heading off soon, or already there – look after yourselves, each other and make us proud.
Most of all – Bring back our trophy.
YNWA.
Anfield Online
www.anfield-online.co.uk
(Our message for fans travelling to Athens) (European Cup Final Forum)