Liverpool beat current Premier League leaders Chelsea yesterday at Anfield to give the reds their third consecutive victory in the Premier League.
After a positive game against Blackburn, a rather more fortunate victory at Bolton – against Chelsea the reds powered themselves in to a 1st half 2-0 lead thanks to two clinical strikes from Fernando Torres.
We highlighted a number of problems in the analysis of last week's Bolton game (here) and we saw some improvements in a number of areas yesterday, although there is still a long way to go before Liverpool are anywhere near the finished article.
Last week we highlighted a key switch in Liverpool's play from previous seasons, and that is less build up play from the back.  Long hits downfield still are the preferred choice of tactic.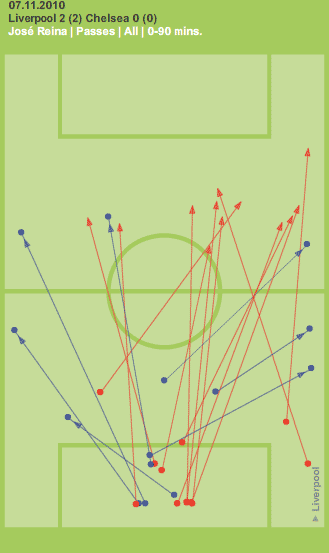 Unfortunately, even with Dirk Kuyt also partnering Fernando Torres up front this is still a relatively wasteful strategy with only 2 of the 11 long kicks up field finding a Liverpool player.  Having two strikers does indeed make the chances of winning back the ball easier, but overall the reds are not effectively distributing the ball from the keeper and more often than not giving away cheap possession.
One aspect of play that had improved in recent weeks is an increased fluidity through the team.
No longer is it as easy to see the rigid banks of 4 defenders and 4 midfielders like we have seen in some games this season.  Liverpool did play much higher up the pitch, with far more forward balls than going sideways or backwards – this is a positive development – causing our opponents to work harder physically and mentally.  Despite this, we still head into the final third too often through the middle.  Taking away the 2 corners, the reds are still not getting down the line and crossing the ball in enough.  When we face poorer sides they will find it much easier to defend if we continue to play narrow in the final third.
Lastly, possession.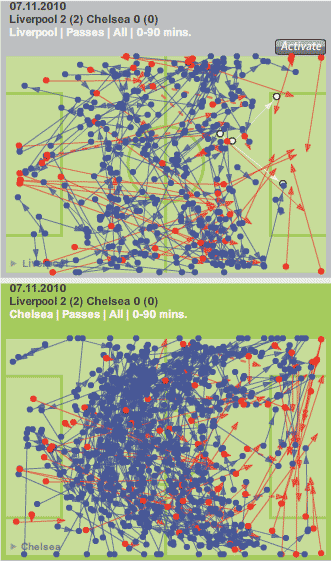 Liverpool allowed Chelsea to have plenty of the ball, but Liverpool were determined to protect a 15 yard area in front of the penalty area.  Whenever a Chelsea player found themselves in this area, Lucas Leiva was chief amongst many midfielders to harry, intercept and win back the ball.  This is similar to the strategy the reds have adopted for a while now, conceding possession in front of midfield but quickly denying space in between the lines.
Finally, and we've mentioned it previously – but Liverpool are still allowing far too many crosses to come in.  Kelly impressed more than Konchesky, which is just as well, because Chelsea headed down the left flank more often than the right.  Liverpool were slightly better than recent weeks at dealing with these crosses, but it is an area the reds need to work on.
We were fairly critical of the tactics at Bolton last week – only Liverpool's second away victory in 2010.  Hopefully yesterday's improvement will be sustained, as the reds now seek to double the number of away victories this year – with games against 18th placed Wigan on Wednesday, before travelling to 17th placed Stoke on Saturday.