The Anfield Online guide to what happened this summer in LFC's transfer window.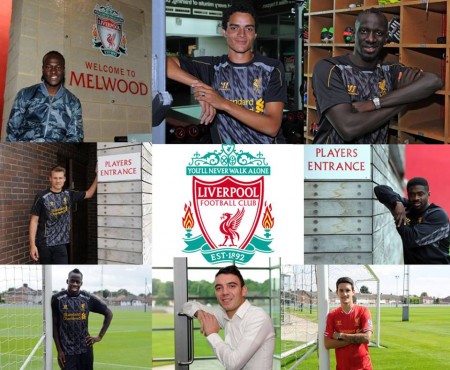 Jamie Carragher was technically the first exit of the summer, he retired from football and his last game was a home Anfield win - complete with clean sheet and a speculative attempt on goal - against QPR.
No sooner had the season ended though and the reds announced the impending arrival of Kolo Toure - who at the age of 32 was an almost identikit replacement for the experience of the Bootle-born defender.
JUNE
Reserve goalkeeper Peter Gulacsi left Anfield - going on to join Red Bull Salzburg, before the Andy Carroll story dominated the headlines.  The player took a few weeks before he ultimately completed his move to West Ham, the club he had spent last season on loan, for £15M.
With Luis Suarez' constant noise from his native Uruguay dominating much of the back pages the reds quickly brought in Luis Alberto and then La Liga dangerman Iago Aspas in a weekend that saw the reds quickly use the funds from the Andy Carroll transfer.
Rumours began surfacing for Simon Mignolet, and the deal was concluded relatively quickly from the first media stories.  The goalkeeper arrived for a fee that suggested he wouldn't be playing second fiddle to Pepe Reina.
JULY
The reds waved goodbye to Danny Wilson at the end of his contract and Jonjo Shelvey moved to Swansea for a tidy £6M.
One of the players that dominated Liverpool's summer was also Henrikh Mkhitaryan - but the player eventually moved to Dortmund.  Liverpool never did bring in the major midfielder that seemed to dominate their summer plans - suggesting that there is still a sizeable hole in Brendan Rodgers' plans going forward.
Liverpool rejected an initial £30M bid from Arsenal for Suarez, as the players unrest began to grow.
Suso was sent off to Spain for a long loan spell - despite impressing in the first half of last season in the first team.  The failure to land a midfielder was relieved in some way as the club extended Steven Gerrard's contract.
Liverpool prepared for their tour of Asia and Australia by naming Suarez, and then withdrawing Pacheco on the morning of the flight.
Pepe Reina never did make it on to the tour, as he joined Napoli, and Benitez, on a season long loan - despite Brendan Rodgers' initial assurances that Mignolet and Reina would do battle over the first team position.
Reina wrote a letter to Liverpool fans - suggesting that a return at the end of the season looked highly unlikely.
AUGUST
Arsenal weighed in with a £40M + £1 bid for Suarez - thinking it activated a release clause.  It didn't.  Suarez got a cob on, and increasingly became distant from the rest of the squad.  Days later John Henry entered the fray - in no uncertain terms saying that Suarez would not be sold to Arsenal, or anyone else for that matter.
Liverpool were having a good pre-season on the field - with a 100% record - and saw more players head out the Anfield exit.  Jay Spearing went back to Bolton, before Stewart Downing was shipped to West Ham.
Luis Suarez slowly began to accept the club's position, and rejoined training.  A bid from Barcelona for Daniel Agger was rejected, and then on the eve of the season a deal was struck to bring in Aly Cissokho on a years loan - providing some much needed competition at left back.
The end of August saw a protracted link with Willian, before Spurs moved into pole position, before they too were gazumped by Mourinho's Chelsea.
Liverpool's hunt for that marquee midfielder continuing.
SEPTEMBER
On the eve of transfer deadline day, Liverpool beat Man United 1-0 to go top of the league the day before the 100th anniversary of the birth of Bill Shankly.  Three new faces were watching on and they all completed their moves the following day.
Two permanent deals for defenders - imposing French international Mamadou Sakho, and long term target Tiago Ilori arriving from Sporting Lisbon.
The reds did an attacking loan in and out.  Fabio Borini moving to Sunderland, whilst the reds brought in Victor Moses from Chelsea.
The final deal saw Dani Pacheco end his 6 year association with the club - he returned to Spain and the Segunda Division.
OTHER DEALS
Two further players from the first team squad were loaned out - Oussama Assaidi heading to Stoke, whilst Jack Robinson headed off to Blackpool to provide some much needed rock in their defence.
Liverpool spent money and brought in a sizeable amount.
PLAYER PURCHASES: £44.8M
PLAYER SALES: £28.15M
NET SPENDING: £16.65M
In further financial stats - the reds have probably reduced their yearly outgoings, slightly on wages, but more significantly in amortization costs.  In other words the way a transfer is funded over the length of a players contract.  Liverpool could have saved themselves approximately £5M in the year ahead due to this.
Brendan Rodgers has already indicated that he may have to do more business in January, and 4 months is plenty of time for Luis Suarez' agent to cast the net overseas - which means that the reds are already planning for the next transfer window.
CONCLUSION
We think LFC have done some good business.  Certainly the reds defence looks strong.  Question marks remain over central midfield.  Whether Allen, Henderson, Lucas and Gerrard provide enough competition and goals to the team is questionable.  One more proven striker would have been a bonus.  Sturridge can be prone to injuries, and with Suarez temperament unknown - there could be huge pressure on Aspas and even Moses to weigh in with goals.
Nonetheless, Liverpool certainly have a decent enough first XI, even if the bench still looks a little weak.
What is your opinion on our summer transfers?