It was Bob Paisley who said 'If you're in the penalty area and don't know what to do. Put the ball in the back of the net and we'll discuss your options later'. Some Liverpool players have observed this ancient mantra consistently over the course of their time at Anfield.

In the fourt part of our series, several of Anfield Online's contributors have argued and debated and produced their own contenders for Liverpool's Greatest Ever Forward.

Shortlist: Ian Rush | Robbie Fowler | Fernando Torres | Kenny Dalglish

Ian Rush

Ian Rush was spotted at an early age whilst playing for Chester City. Whilst only 18 years old, then manager Bob Paisley beat Manchester City and Rush's boyhood favourite club Everton to his signature. The transfer fee was an astonishing £300,000, a record at the time for a teenager, but Rush would quickly prove that the seemingly massive amount of money was, in fact, one of the many bargains the club would sign over the years.
Statistically, Rush is the greatest striker in Liverpool's history, with a mammoth 346 goals in 660 games. Perhaps his greatest season would be 1983/84, in which he netted no less than 47 goals in 65 games. 3 hat-tricks and numerous doubles led him to be voted PFA and Football Writers player of the year.
Whilst not the scorer of the most spectacular goals, Rush banged them in with an incessant rhythm that will be difficult for any player to equal. Unsurprisingly, Rush holds many goalscoring records. Second highest goalscorer in the FA Cup of all time with 44 goals, record derby goalscorer with an astonishing 25 goals against Everton, and the highest number of FA Cup final goals with 5 to his tally, amongst others.
Statistics alone are obviously not the only reason I chose Rush as who I believe to be our greatest striker, but also the fact that he was deadly within the box. Rarely have I seen a player with his anticipation, his ability to be in the right place at the right time to score crucial goals. Equally comfortable with both feet, Rush would slot the ball under an outrushing keeper or into the bottom corner of the net with deceptive ease.
Whilst leaving the club for Juventus in 1987, this was for the most part not held against him, and he was welcomed back just a year later by the Anfield faithful with open arms. Whilst his time in Italy was a difficult one, with Rush scoring just 8 goals in Serie A, he returned home on fine form, recapturing his early eye for goal.
My clearest memory of him was his substitute appearance in the 1989 FA Cup Final, where he clinched the match over rivals Everton with two stoppage time goals. A player of tremendous quality whose love for the club still burns strong.
Robbie Fowler

Two words and one nickname amount to 171 goals in 330 games and the title of Liverpool's greatest forward.
Robbie Fowler had it all, pace, strength, ability to score any goal from anywhere and the most clinical finisher of his generation. Though he favoured his left foot, he could easily score on his right and for a small lad was deadly in the air.
During his two spells at the club the fans gave him the name God, for good reason. He was exceptional and the records looked to be tumbling only for his career to be hugely affected by injuries.
Not before he'd broke one record, which still stands today, and that way the quickest hat trick in the Premiership. We all know which one, that one against Arsenal. That was Fowler heading towards his prime only for the injuries I mentioned earlier to start ruining his career.
His medal collection may not be as full as some players but that doesn't mean his ability isn't right up there with the rest. But he did claim a few medals along the way to go with his ability, the treble of 2001 in which he was captain for large parts of despite never being officially named the club's captain.
After spells with Leeds and Man City he returned to his club and God was born again. So I suppose the religious statement of "god will come again" is true for Liverpool fans. And even though he never, understandably, reached the heights of his first spell here he was still adored by the millions of Kopites around the world.
We all know the story of "hand of God" well our own God had a few troubles with his hands as well. Sniffing the goalline after scoring a penalty at Goodison Park in response to the accusation that he'd be doing cocaine as well as raising four fingers to the Man United fans while wearing the Man City shirt just to show their fans how many European Cups we'd won compared to their record. (As we know it has gone up to five since then)
His hands have also done good though when he honestly admitted David Seaman hadn't touched him despite the ref giving the penalty at Highbury. Robbie took the penalty and missed. (Jason McAteer scored the rebound, obviously he didn't hold the same sentiment as God)
Goals, gestures and God. Three reasons why Robbie Fowler is Liverpool's greatest forward.
Fernando Torres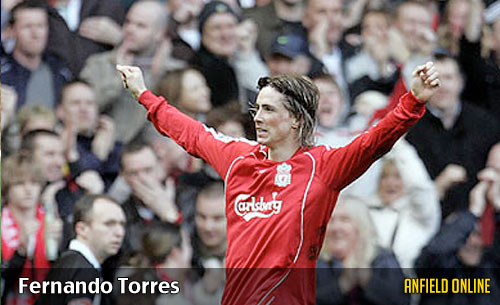 Very rarely do I put so much of a gamble on something. And maybe I'm being unfair on past Liverpool players who've taken to the front line of our trenches. But in the infancy of this player's Liverpool career, I think we may just have the greatest yet. And I'm willing to put my head on the line for him.
The Kid (we're in scouse land now) who we all know too well by now, has taken his skill, natural ability, determination, passion and desire into our hearts. Even though he's from Madrid, he's got the imprint of a scouser on him.
As a young lad he came through the ranks at Atletico Madrid and done well for his country. It wasn't long from Atletico Madrid being promoted into La Liga that Torres was being noticed. Even though he didn't take the land by storm, he was certainly a talent that was ready to erupt and causing many football critics and fans from across Europe to talk of him.
In 2007 Fernando Torres landed in Liverpool. There were many opinions about the kid from Spain. Could he live up to the reputation he brought with him? It's a different game here, will he cope with the pace and physical aspect of the football that's played here?
I for one, wasn't sure. I'd seen him play for Atletico Madrid. And I'd seen him play for his country. While I was pleased about his signing and excited by the prospect of a good striker to come good at our club. I never imagined how bowled over I would be to see such a complete striker express himself with such deadly effect.
Torres for me, is the best striker in the world. There is nobody who thinks, moves and runs as good or as fast as him. He's got the most perfect vision and touch in his pass. He's brilliant with his head and has pure strength. And it's frightening at how much he's getting even more clinical in front of goal.
Possibly, Hunt, Rush, Dalglish and Fowler all in one player. In the front line for Liverpool Football Club. That's why I'm putting my head on the line for him.
Kenny Dalglish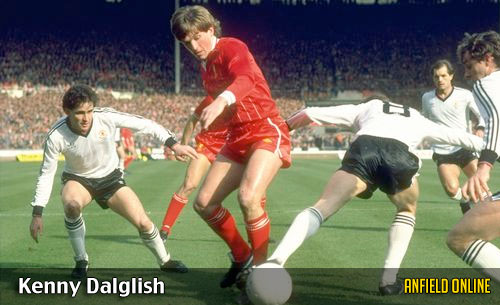 Putting to side his off the field devotion to Liverpool, there is no question in my mind that Kenny Dalglish was not only Liverpool's greatest forward of all time, but greatest player as well.
Despite reaching the heights of captaincy at Celtic, Liverpool fans were worried in the summer of 1977 after the excitement of our first European Cup victory was tempered by the departure of Kevin Keegan.  Liverpool's talismanic striker had departed abroad and some speculated the empire would begin to crumble.  Everywhere he turned, the £440,000 Scottish signing was told he had big boots to fill.
He did more than fill them as Liverpool entered their most emphatic years of football domination. In Dalglish's 13 seasons at Liverpool he notched up 501 appearances, scoring 169 times.  In his first season he amassed 31 goals from 61 appearances.  His 31st clinching the European Cup for the second year running in the final against Brugge at Wembley.
He didn't miss a league game in his first three seasons and when Ian Rush arrived three years later, one of the most potent attacking forces ever seen in football was unleashed.  Rush was a fine finisher of the ball, but whether he would have enjoyed the same kind of goal record had Dalglish not been turning through the vast majority of the opposition defence is open to question.
Dalglish could score goals with either foot, with his head, with his back to goal, outside the box, inside the box.  His passing stands up to anybody who has played for the reds, his through balls to unlock defences are legendary, and he had the close control normally typical of somebody who wears the yellow and blue of Brazil.
In his 14 years at Liverpool, the reds won the title 8 times, runners up 6 times, won 3 European Cups and a glut of other domestic trophies.
Those fans who saw him play will be in little doubt that he deserves the title of Liverpool's Greatest Forward.
What do you think? Who is right? Have we missed the real standout winner? Who is your greatest Liverpool forward of all time?
Vote here and leave your comments below.
[poll id="18″]