Man City and Liverpool - two unbeaten Premier League sides in the opening three games meet today on a wet Saturday lunchtime in Manchester.
A victory for either side will take them, temporarily at least, to the top of the Premier League.
The reds beat Arsenal 4-0 in their last game at Anfield, whilst Man City required an injury time winner from Raheem Sterling to beat Bournemouth away.  Sterling was sent off in the celebrations and thus misses today's game through suspension.
The reds have made 3 changes to the side that beat Arsenal, Phil Coutinho was not declared fit enough to play a substantial role in the game - and Alex Oxlade Chamberlain is the reds newest squad member after completing a £35M transfer on deadline day.
As it happened...
Confirmed Team News
Three changes for the LFC starting XI from the team that beat Arsenal 4-0.
Karius, Lovren and Gomez all switched at the back - and in comes Mignolet, Klavan and Alexander-Arnold.
Full team: Mignolet, Alexander-Arnold, Matip, Klavan, Moreno, Henderson, Can, Wijnaldum, Salah, Mane, Firmino.
Alex Oxlade-Chamberlain is named on the bench for the reds.
Subs: Karius, Lovren, Gomez, Milner, Oxlade-Chamberlain, Solanke, Sturridge.
Man City team for today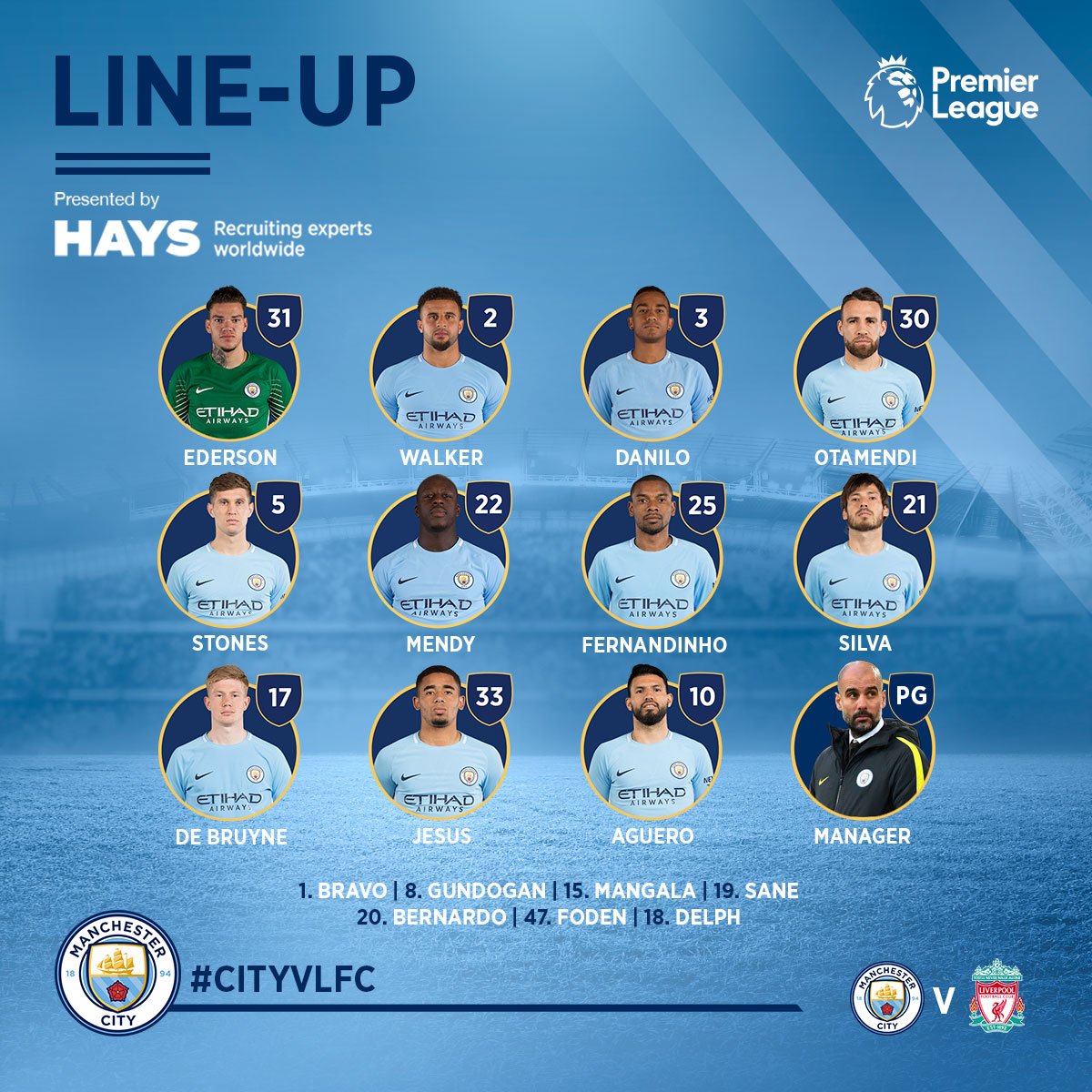 Klopp explains defensive changes
The Liverpool boss has highlighted that Klavan and Alexander-Arnold are fresher after their international break than Lovren and Gomez - hence the changes at the back.
"Dejan played last Saturday for 27 minutes. Last Sunday, the rest of the game. Last Tuesday, 90 minutes in a quite difficult game against Turkey.

"He came back not injured, otherwise he wouldn't be on the bench, but he felt the intensity a little bit. Raggy didn't play the second game [for Estonia] and did outstandingly good against Crystal Palace. That's why we have the players.

"With Joe it is pretty much the same; he played two games for England U21s and came back feeling the intensity a little bit. Trent had kind of fresh legs after only one game – so that's an easy decision."
This game could be as unpredictable as the weather. It was bright sunshine a short while ago and now it is raining heavily at the City of Manchester stadium.
Players completing their pre-match warm ups.
KICK OFF
And the sunshine has reappeared in Manchester.
Come on you red men!
Early shot from Alberto Moreno - deflected by a City defender and it's out for a reds corner.
4' Free kick for Man City, de Bruyne sends it in but Gabriel Jesus heads from only just inside the area and it goes wide.
Attacking opening for both sides.
Yellow Card
6' Free kick to the reds. Otamendi clatters into Salah at the right hand edge of the area. That's a yellow card.
It's counter-attack v counter-attack here.
Shortly after the reds free kick it's Man City who break away - although de Bruyne was under pressure from Henderson and didn't make the best of his position.
Both sides looking positive.
12' Poor backpass from Alexander-Arnold - nowhere near Mignolet and it goes out for a City corner.
13' And a shot from Fernandinho - Mignolet tips it around the post for another City corner. Corner comes to nothing but then Mignolet under little pressure fires a long kick straight out, and Klopp gestures frantically at the LFC keeper. He's not happy with the Belgian.
15' Salah is enjoying his spells down Man City's left wing. Otamendi is already on a yellow card. He has acres of space - finds Henderson who whips in a cross. Firmino at the back post attempts a karate kick move to try and get something on the ball but he can't quite reach.
Yellow Card
20' Trent Alexander Arnold goes into the book after pulling de Bruyne's shirt. Free kick, thankfully, comes to nothing. The Liverpool right back has not had a great opening 20 minutes of this game.
Goal
25' Manchester City 1-0 Liverpool
Kevin de Bruyne feeds a through ball from inside the centre circle - and Aguero finds the gap and beats Mignolet in the one on one.
Yellow card
Mane brought down after a pacy run - just at the very edge of the area. Free kick to the reds.
Yellow card for Fernandinho.
Free kick comes to nothing. Emre Can with a poor attempt there - he sends his shot wide from the edge of the D.
30' Left footed shot from Salah he was effectively on a one on one there from an angle. Ederson gets down to save the tame shot. Should have done better.
34' Klavan caught in possession on the wing - Gabriel Jesus takes it off him and runs towards goal. To his credit Klavan gets back applies pressure and Mignolet blocks.
RED CARD
37' Sadio Mane is sent off by referee Jonathan Moss. Ederson Moraes came out of goal and there was a clash between the players.
Sadio Mane takes an age to go off - looks gutted. His foot was high to try and collect the ball. The Man City keeper doesn't look like he can continue - referee comes over to try and calm Klopp down.
Substitution
42' Claudio Bravo on for Ederson Moraes.
Going to be 8 minutes added time after the City goalkeeper is finally stretchered off.
Tough ask now for Liverpool to get anything from this game.
Goal disallowed
For Man City! Gabriel Jesus heads in from a de Bruyne cross but the assistant ref rightly calls it offside.
Goal
45+5' Manchester City 2-0 Liverpool
Well Gabriel Jesus gets the goal this time - heads in from a de Bruyne cross. He had space in the middle of the area. and fires through the arms of Mignolet.
HALF TIME
Manchester City 2-0 Liverpool (Aguero 25', Jesus 45'+5')
Well, Man City have taken quick advantage of Sadio Mane's red card with a goal to double their lead.
Lot of discussion concerning whether it was or wasn't a red card but it's happened and Sadio Mane will miss LFC's next three domestic games.
An almost impossible job for Liverpool to get something out of this now.
Second half underway
And Alex Oxlade-Chamberlain has come on to replace Mohammed Salah.
Big task now for the reds - playing with 10 men just a few days before the clubs opening Champions League game.
Goal
53' Manchester City 3-0 Liverpool
Aguero has a goal disallowed and then seconds later, just like at the end of the first half they score a legal goal. Aguero with the touch and Jesus taps in.
Substitutions
58' For Man City Leroy Sane on for Gabriel Jesus - while James Milner is heavily booed by the City fans as he comes on for Georginio Wijnaldum.
64' City stroking it around now enjoying plenty of possession. Liverpool struggling to get the ball now - almost saving their energy for the midweek game. De Bruyne with an opportunity but he lifts the ball over the goal.
Substitution
67' Dominic Solanke comes on for Roberto Firmino. The Brazilian didn't look on top form after returning from Brazil on Thursday. Both teams going through the motions now - turned into a bit of a friendly.
72' Good save by Mignolet. Mendy sends a quick low cross in and it comes off Matip's foot - forcing Mignolet into a reaction.
Goal
77' Manchester City 4-0 Liverpool
Leroy Sane makes the breakthrough - Liverpool's defence carved open and Mignolet too easily beaten at the near post.
Liverpool have conceded 4 goals or more in 3 Premier League games under Jurgen Klopp.
Other two were
Bournemouth 4-3 Liverpool
Norwich 4-5 Liverpool
Heaviest defeat since May 2015 when we lost 6-1 at Stoke City.
Goal
90+1' Manchester City 5-0 Liverpool
Leroy Sane with a fine finish and it's a truly embarrassing result for the reds.
FULL TIME
A day to forget for the reds who gave up after Sadio Mane's sending off.
Manchester City 5-0 Liverpool
That's a wrap
A long weekend ahead but the reds will have to dust themselves down and prepare for the visit of Sevilla in the Champions League on Wednesday.
It is only Liverpool's 2nd defeat in the past 17 games, but it was some defeat.
Speaking after the game Klopp said the result 'wasn't cool - but it's better to lose one game 5-0 than five games 1-0'