Sadio Mane returns to the Liverpool side for the first time since playing in the opening game of this tournament against Sevilla.
In the meantime he has served his 3 game suspension which affected domestic competitions only.
His return means that Coutinho, Salah, Mane and Firmino all start for the first time as Liverpool players.
Joe Gomez is serving a one match ban for his late sending off against Sevilla and misses this clash - Trent Alexander Arnold comes in to replace him.
Match updates below (* mobile users may need to visit the website to see the updates)
As it happened...
A reminder of the full LFC team
Starting XI: Karius, Alexander-Arnold, Lovren, Matip, Moreno, Henderson, Can, Coutinho, Salah, Mane, Firmino.
Substitutes: Mignolet, Flanagan, Klavan, Milner, Wijnaldum, Oxlade-Chamberlain, Sturridge.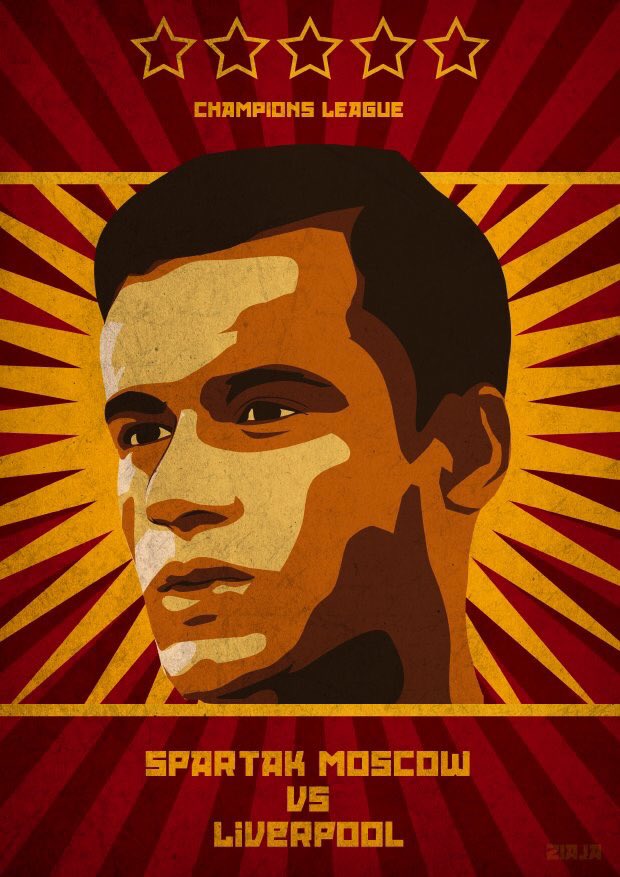 15 years on
It's been 15 years since Liverpool last met Spartak Moscow - and that was also in the Champions League group stages.
The reds won 5-0 at home and 3-1 here in Russia - Michael Owen scored a Liverpool hat-trick in Moscow after the reds had initially fallen a goal behind.
But Michael Owen wasn't one of those scoring the 5 goals at Anfield. The reds scorers there were 2 from Heskey, Bruno Cheyrou, Sami Hyypia and Salif Diao!
Spartak side
Here's how our opponents line up. Quncy Promes, their Dutch goalscoring machine, is still out injured - as is their club captain Denis Glushakov.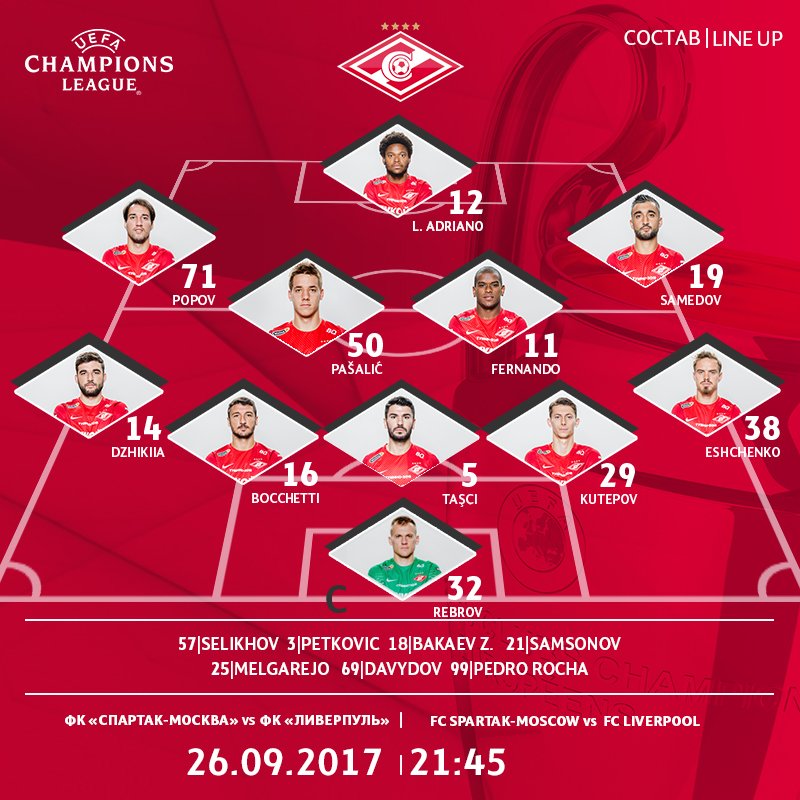 Teams are out
Liverpool are wearing their white away kit, with Spartak in their home red shirts.
There are around 800 Liverpool fans in attendance here in Moscow in a stadium with a capacity of around 45,000.
KICK OFF
We are underway! Come on you reds.
4' Liverpool setting their stall out early. Just Karius and Lovren in the Liverpool half of the field in these opening minutes.
Emre Can sends in a cross from the touchline but it goes behind the line before curling back in.
Yellow card
7' Emre Can goes into the book for a foul - a lot of the match left to be on your best behaviour.
Chance
11' Emre Can sends the ball over, Alexander-Arnold and Salah with a 1-2 at the corner of the penalty area. Trent chests it down and goes for the volley but it goes wide of the goal.
15' Quarter hour gone - it's been almost entirely Liverpool with the ball at their feet. Not too many gilt edged chances yet but all the action is in the Spartak half of the pitch.
Great save by Rebrov
17' Great cross from Mane - Firmino rises to meet the header - and it's got pace but it's straight at the keeper. Firmino making his 100th LFC appearance this evening, would be great to cap it with a goal.
19' Salah chases a lost cause, nips the ball off the defender but the keeper just manages to get there ahead of the Liverpool attacker.
The home crowd have quietened down a little bit from kick off.
22' Free kick for Spartak Moscow just outside the area - dangerous area to concede it. Philippe Coutinho the guilty party.
GOAL
23' Would you believe it... well yes actually.
Fernando fires in that free kick to make it, totally against the run of play, 1-0 to Spartak Moscow.
Goal disallowed
Sadio Mane fires in an equaliser - at least he thought it was but he was offside. Disallowed.
It was a great cross from Alexander Arnold in to the area.
29' Arton Rebrov in the Moscow goal gets down to keep Sadio Mane's shot out.
Sevilla have taken a 1-0 lead in the other game in this group v Maribor.
GOAL!!!
31' It's a 1-2 with Mane and Coutinho and Coutinho bangs in his first ever Champions League goal.
1-1
35' Salah bundled over in the penalty area but the referee isn't interested in the appeals for a penalty. Liverpool dominating but Moscow, as you perhaps would expect from the Champions of their country, do look dangerous on the counter attacks - especially with so many Liverpool players in attack.
HALF TIME
45' Fine move from the reds, but it ends with Sadio Mane being flagged offside and Mo Salah squeezing the ball across the face of the goal.
That's half time. A good European away performance so far from the reds - but they should be going in at half time in the lead. It's 1-1 in Moscow.
Second half
We're back underway. No changes for the reds in the interval.
46' Yellow card for Salvatore Bocchetti after an off the ball incident with Emre Can.
The Liverpool free kick, just outside the area, is sent in and Lovren heads at the keeper. The referee had blown his whistle though, for some unclear reason.
Coutinho free kick
53' It's on target but the goalkeeper gets down low at his bottom right hand side and tips the ball away from danger.
A quick counter attack and Eschenko smashes a shot - Karius punches the ball away for a corner.
From the corner, Karius comes out and punches it to safety.
57' Great ball across the area from Sadio Mane, Rebrov comes out to deny the on-rushing Salah and the goalkeeper has taken a bit of a knock in the process.
Great vision by Mane there.
61' Moscow goalkeeper wincing as he moves around his area. Looks like that collision earlier may have done some damage. Their sub keeper is warming up just in case.
Liverpool enjoying the lions share of the football. Plenty of strength on LFC's bench as well tonight.
64' Spartak have got a couple of issues here. The keeper doesn't look like he can carry on and one of their defenders is currently being treated with cramp, after only just over an hour.
Hopefully Liverpool's fitness will count in this final 25 minutes.
A stretcher cart has come on for the keeper.
Spartak Moscow substitution
68' After what seems like an age Aleksandr Selikhov finally comes on to replace Rebrov in the Moscow goal.
Liverpool substitution
70' On comes Daniel Sturridge for Sadio Mane
Now would be a great time for Sturridge's 100th club goal.
LFC Substitution
73' Another change from Klopp - off goes Emre Can and Georginio Wijnaldum.
First away goal for the club from Gini? We can all dream.
Yellow
75' Roberto Firmino goes in to the book for a foul on Eschenko. The game has lost a bit of impetus following that lengthy goalkeeping delay and the number of subs brought on.
Last couple of minutes
88' Although we're expecting plenty of added on time.
It remains Moscow 1-1 Liverpool.
The reds haven't been as good second half and you sense that Spartak feel they've done enough now to get a point from this game.
Sturridge should have done better
A ball is sent into him in the area - and Sturridge is free but he swivels and shoots over the crossbar.
8 minutes to be added on.
Great chance wasted
90+3 Brilliant ball by Moreno, great pace from Firmino to get behind the man but his pass goes behind the feet of Mo Salah inside the area.
Frustrating!
Chance denied!
90+6 And that should have been the winner as well!
Alexander Arnold with a great cross but Salah powers his header straight at the sub keeper!
FULL TIME
Liverpool should have won, comfortably.
Spartak Moscow 1-1 Liverpool
The reds are level with Spartak in second place with 2 points.
Post match comments
Jordan Henderson:
'Disappointing. I thought we controlled the game from start to finish and we should have won.

'With the chances we had we've got to win the game comfortably.

'We've got to make sure we don't give goals away. Worst case scenario should have been a 1-0 to us.
Here's Klopp
Yeah, obviously we didn't score often enough.

We created, created, created. The chances we had were obviously big enough to score 2,3,4 times.

Where is the real point for criticism?

We tried with all we could - it was a very intense game from our side.

Yes we have to be clinical - that's 100% sure. The only way you can change it is to try again.

It's really crazy having had that many chances and scoring only one time feels kind of average.
Thanks for joining us
The reds travel to Newcastle United for their 4th consecutive away game at the weekend.
It is the final Premier League game before the next international break.
We'll see you then.