Liverpool can make a positive step towards qualification if they pick up all 3 points against Maribor tonight at Anfield.
The reds won 7-0 against Maribor in the last game, a game in which Maribor had said they planned 'to go for it'.
Well Maribor have ditched those plans and made 4 changes themselves tonight - with a more defensive looking line up from the Slovenian champions. LFC have made 4 changes - Oxlade Chamberlain with a rare Liverpool start - in for Sturridge.  Mignolet, Gomez and Henderson are replaced by Karius, Trent Alexander-Arnold and Emre Can
Mobile users may need to click here for the live updates
As it happened...
Here's a reminder of both teams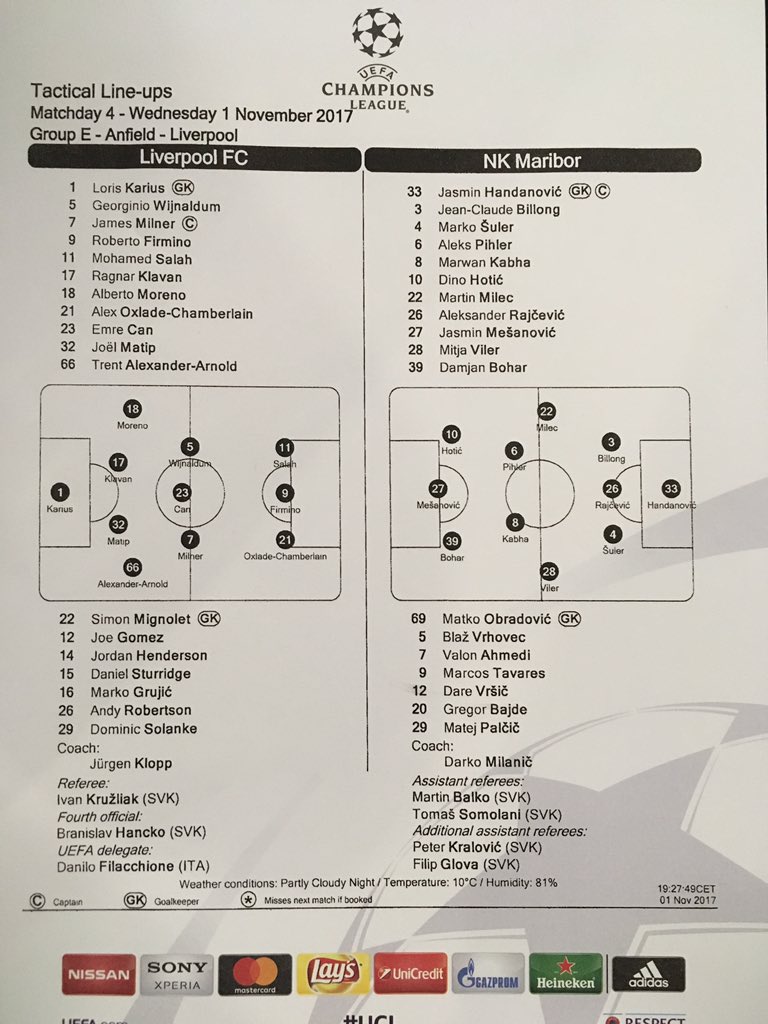 Klopp on tonight's team selection:
Lovren and Coutinho are not fit. We need to have a team which is ready for a very intense start, that's what we need.

We need speed, to be good in small spaces. The only really new player is 'Ox' but he deserved it 100%.

We are at home - we know we can be really strong if we want to show it.
If you missed it..
LFC U19's faced Maribor's youth side earlier today in the UEFA Youth League.
Steven Gerrard's side won 3-0 thanks to goals from Curtis Jones, Ben Woodburn (penalty) and Glen McAuley. The reds top the youth group E with 9 points from 4 games.
Sevilla and Spartak Moscow's youth sides played out an entertaining 3-3 draw - they are both on 5 points in the Youth League.
KICK OFF
Underway at Anfield - come on you red men!
5' Early corner for the reds from Milner which is cleared. Looks like the normal 4-3-3 formation for the reds - and just like in Maribor it looks like Emre Can is playing as the deepest central midfielder.
Liverpool having plenty of the ball in these opening moments.
Maribor concentrating on defending
They've got all of their men behind the ball - clearly aiming to try and pick things up on the counter-attack but Liverpool are being patient - looking for that opening in the Slovenian defence.
Klavan and Matip seeing plenty of the ball as they are about 15 yards inside the Maribor half.
Jordan Henderson is stripped and ready to come on for a possibly injured Wijnaldum.
Liverpool substitution
17' Jordan Henderson replaces Gini Wijnaldum who appeared to have twisted his ankle.
Milner gives the captains armband to the incoming Henderson and it will likely mean a tactical change - with Emre Can being pushed forward and Henderson taking his spot as the defensive midfielder.
Chance
Firmino sends the ball over to Chamberlain who can't get a clean contact on the finish.
Milner was taken down in the build up to that chance but the ref gives the Maribor player a talking to.
Seconds later though they get their first yellow card of the game - awarded to Damjan Bohar.
Now that was a chance..
25' Good build up by Liverpool - the ball is whipped into the penalty area and Salah is there unmarked.
But his first touch is poor and Maribor can clear.
Great save by Maribor
30' Firmino gets a chance away, that takes a deflection off a defender. It's looping into the goal but the keeper managed to get just enough of a touch to tip it over the bar.
33' Trent Alexander-Arnold sends the cross into the box - Emre Can has found himself some space in the area but the cross is just behind him and his header loops high in the air and doesn't trouble the keeper.
Elsewhere Sevilla have scored the opening goal to lead Spartak Moscow 1-0 in Spain.
35' Surely a Liverpool goal must be in the post?
A couple more opportunities fall Liverpool's way - Firmino can't quite control the threaded ball into the area - he will be kicking himself and then another shot from outside the area.
There are so many Maribor players in that box though and it's blocked.
43' Liverpool have been much better in this goalless first half than they were in the goalless first half at the weekend against Huddersfield.
Maribor's mission appears completely to put that 7-0 defeat behind them - and with effectively a back 6 at times with the midfielders squeezed just in front then this could be a tough nut to crack.
Reds ending this half with a couple of quick corners - from the second corner the ball finds its way to Matip at the back post but his header doesn't place the keeper under any pressure.
1 minute added time at the end of this half.
HALF TIME
Liverpool 0-0 Maribor
A little bit different from the game in Slovenia a few weeks back. Liverpool have seen plenty of the ball, and they have had some opportunities but on more than one occasion they just haven't got the shot or chance on target due to poor control inside the area.
Can the reds break through the bus in this second half like they did last weekend against Huddersfield?
Liverpool enjoyed 83% possession in that half. A total of 412 accurate passes completed compared to just 57 from Maribor.
The reds also had 12 shots compared to Maribor's 1 but 4 were blocked and 6 were off target.
Second half KICK OFF
Liverpool kicking towards the Kop in this half. No changes to the reds line up for this half.
GOAL!!
49' And there it is - Mohammed Salah gets on the end of a Trent Alexander Arnold cross to put it in the back of the net - that's his 10th goal of the season and it's 1-0 to Liverpool.
PENALTY
51' Firmino dragged down - referee points to the spot!
Would you believe it!
Penalty saved.
The Maribor keeper pushes James Milner's shot on to the post!
Over the bar
57' Another wonderful cross into Salah - this time from the left hand side. Klopp gestures a header at the ball from the touchline - Salah gets the header but it's just over the crossbar.
Maribor sub
59' Captain and striker Marcos Tavares is now on for Maribor replacing the tiring Jasmin Mešanović. Liverpool will have to watch him on any counter attacks.
63' Tavares holds the ball up well for Maribor - Milec has got himself up the right wing and receives the pass. He tries an ambitious shot from the corner of the area which goes wide of Loris Karius' goal.
The German keeper has been a spectator for much of this match.
GOAL!!!
65' Brilliant goal from Emre Can to make it 2-0. It's a lovely 1-2 with James Milner and then Emre smashes it into the bottom right hand corner.
Good save by Karius
70' The Liverpool keeper gets down well to stop a powerful shot through a crowded defence after a mini-spell of Maribor possession.
But it's back with Liverpool now deep in the Maribor half. The match is a lot more open now than the first 45 minutes, although Maribor seem resigned to their fate - they just want the scoreline kept respectable.
LFC substitution
75' Daniel Sturridge is on for Mo Salah. The Egyptian goes off to a standing ovation.
Now what can Studge do? It's been 7 years since his last Champions League goal.
Elsewhere...
Spartak Moscow get a goal back in Spain. Sevilla currently leading 2-1 at the moment.
The reds next game in this tournament is away to Sevilla.
Liverpool make their final substitution
85' It's a first ever Champions League group game appearance for Marko Grujic who comes on for Roberto Firmino.
GOAL!!
90' There we go - his first Champions League goal in ages and ages! Daniel Sturridge makes it a more realistic 3-0 in the dying moments of this game. Assist by Alberto Moreno.
FULL TIME
That's the full time whistle and the reds complete a comprehensive and deserved victory.
It was like total recall from the weekend. Liverpool huffing and puffing in the first half to a 0-0 before quickly opening the scoring in the second half and going on to win 3-0. They even missed a penalty again!
Waiting to hear Jurgen Klopp's opinion on that game.
Lot of good performance from the reds there who have now got 2 wins and 2 clean sheets under their belt since that Spurs defeat.
Klopp Post Match comments
Klopp is speaking:
'What was I thinking at half time?? That we had to do better. It was just like the weekend at Huddersfield. We did the same things wrong - we were in the wrong positions. We did not have enough offers in behind - we maybe didn't create enough.

'They (Maribor) changed completely their style. They showed they are good when they play like that but they didn't do it too often.

'In the second half we adjusted our positioning and we really did well and won the game. That's it.

'(Trent and Alex) did well. We need all these players. Wijnaldum's ankle is already swollen - that's not a good sign - so it shows why we need our squad.
Thanks for joining us
That's it for tonight's game. One more game for the reds before another international break - away at West Ham at the weekend.
A win at the former 2012 Olympic stadium would cap a perfect week for the reds and give us just the boost we require before the internationals.
Both Sadio Mane and Adam Lallana are expected to be back after that international break - and it's possible that both Phil Coutinho and Dejan Lovren could be back in contention for the trip.