Liverpool's impressive 2nd leg win away in Munich propelled the club into the last 8 of the tournament where tonight they face Porto.
Tonight's first leg is at Anfield before the return leg next week back in Portugal - the sight of an impressive 5-0 win in the last 16 last season.
The reds however will be aiming to do better than last season's 0-0 home leg against the Portugese side.
A couple of players received minor knocks from the game on Friday night, but Klopp expects them to be recovered for tonight's match under the Anfield lights.  Porto too have some injury concerns, particularly in defensive positions.
Follow tonight's game with us here.
As it happened...
Confirmed LFC Team
It's three changes for the reds for tonight's game:
Alisson, Alexander-Arnold, Lovren, Van Dijk, Milner, Fabinho, Henderson, Keita, Salah, Mane, Firmino.

Subs: Mignolet, Wijnaldum, Gomez, Sturridge, Shaqiri, Origi, Matip.
Ch..ch..changes
Both Matip and Wijnaldum had been mentioned as suffering slight knocks v Southampton.
This is the first time Dejan Lovren and Virgil van Dijk have started together since the defeat v Man City in January.
Joe Gomez back in the squad for the first time since the Burnley away game at the start of December. He's missed the last 22 matches.
Tonight's Porto team
Plenty of new faces that weren't involved in last season's games
Casillas, Maxi, Felipe, Militão, Alex Telles, Corona, Danilo (c), Óliver, Otávio, Marega, Soares
Subs: Vaná, Hernâni, Brahimi, André Pereira, Fernando Andrade, Diogo Leite, Bruno Costa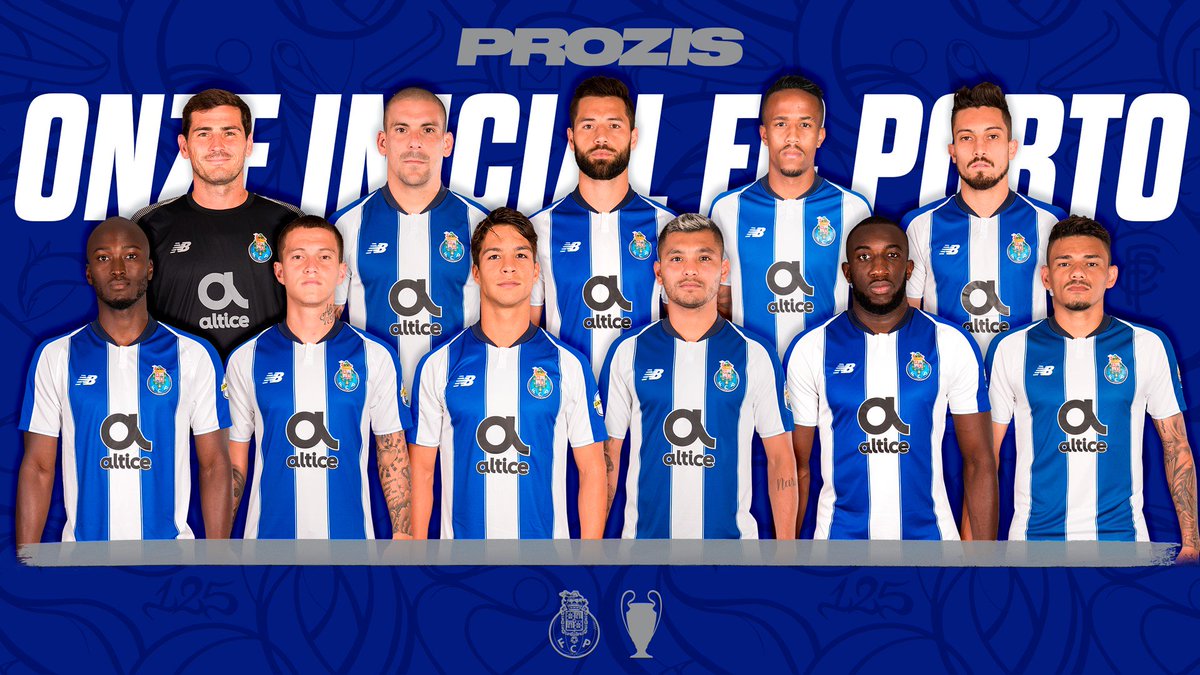 How did Porto get here
Porto entered the competition as one of the group one seeds due to winning the Portugese League.
They easily won Group D, perhaps the easiest of the Champions League group, with 5 wins and a draw. They finished above Schalke, Galatasaray and Lokomotiv Moscow. They scored 15 goals in the process.
Then in the last 16 they faced last years beaten semi-finalists, Roma, with the first game in Rome. They lost 2-1 in Italy, but went through after winning 3-1 after extra time in the home second leg.
Porto are two times Champions of Europe - winning the European Cup in the season before the reds won in 2005 when Jose Mourinho was their manager.
More recently they won the 2010-11 Europa League - beating fellow Portugese side Braga in the final.
Klopp's record at LFC in Europe knockout rounds
Done quite well in these two-legged European games...
Augsburg EL - WON
Man Utd EL - WON
Dortmund EL - WON
Villareal EL - WON
Hoffenheim EC - WON
Porto EC - WON
Man City EC - WON
Roma EC - WON
Munich EC - WON
How will he get on here?
Players out
Jordan Henderson leads the players out on to the field.
'We've conquered all of Europe' comes the songs from the crowd
GOAL
5' It's Naby Keita with his second goal in two games. It's a big deflection off Oliver Torres - Keita stroking the shot in from the edge of the area after Mane first passed to Roberto Firmino
16' Mo Salah gets some applause after tracking back to left back and winning back the ball.
Appreciated by the crowd that.
Defensive line by Porto but Liverpool are not resting on the 1-0 - looking for more goals.
Important tackle by van Dijk at the other end.
Shot
18' And Mo's up the other end now with a strike from just outside the area. Casillas saves the volley.
Salah chance
21' Ball slid through to Salah, he's got one attempt to try and beat the onrushing keeper....
...but it slides narrowly wide. Inches in it.
GOAL
26' Brilliant run from Trent Alexander-Arnold, passed by Henderson and Firmino is at the back stick to put it away.
VAR
31' Chance there for Porto but Alisson pushes it out and it hits Alexander-Arnold on the arm. He's standing about two foot away.
VAR says its not a deliberate handball. No penalty for Porto.
Another big chance
34' Keita finds Henderson who crosses back over. Firmino with the half-volley....
Wide.
Very entertaining
41' This has been a lively half of Champions League football. Liverpool's early goal has ensured that Porto have been attacking too to try and get what could be an important away goal.
They don't have it yet. We're edging towards half time and it's 2-0 but there has been at least half a dozen good goalscoring chances in this half.
Keita
45' He's having a very good half. Perhaps his best in a Liverpool shirt. He's very advanced up the pitch - in support of the front three.
Added time. 1 minute.
HALF TIME
Liverpool 2-0 Porto
There should have been more goals.
For both sides!
Good half of football - Liverpool leading but it's not all one way.
Firmino, what a player! Both created the attack and finished it. Brilliant. #LFC

— Vegard Heggem (@vedgy) April 9, 2019
SECOND HALF
Back underway for the second half.
Liverpool kick off and are kicking towards the Kop.
Disallowed
48' Mane puts the ball in the back of the net but its disallowed straight away.
He looked onside.
VAR reviewing it...
It is so tight but the VAR system sticks with the offside decision.
Misunderstanding..
and it's between Virgil van Dijk and Alisson Becker. Outcome is a Porto throw in but Liverpool clear.
Looks like Virgil wasn't waiting for Alisson to come and collect that ball.
52' Danilo with an important block after Salah collects in the area and turns to shoot.
Took all the sting out of that shot and it's an easy collect for Iker Casillas.
60' Less chances so far in this half. It's a bit scrappier than the opening half.
That LFC disallowed goal the only real spark of excitement so far.
Sub
62' Porto with the first change. Brahimi comes on for Soares and goes into defence.
That's a back five now for Porto who look like they want to try and make sure they get Liverpool back to their ground with only the two goals.
Wide
63' Salah shot takes a deflection off Henderson and goes wide.
LFC Sub
73' It's our first change.
Sadio Mane is off and on comes Divock Origi.
Should have been 2-1
79' Morega beats the offside trap and he's in on goal - the angle narrows but he should have done better there.
He fires it into the side netting.
As it is, on replay, it looks like it would have been offside anyway.
LFC Sub
81' Daniel Sturridge heads on for Roberto Firmino.
VAR review
Incident involving Mo Salah checked by VAR after he catches one of the Porto players.
No action taken.
Injury time
90+2' About 60 seconds of it to go.
And it's a great run forward from Naby Keita but it looks like the third goal isn't going to come for the reds.
FULL TIME
Liverpool 2-0 Porto
Well Shaqiri was waiting on the sidelines but he didn't get on!
Good win for Liverpool in this first leg. Clean sheet could be crucial.
Post match reaction
Well, the Liverpool players seem happy with that.
Both Virgil van Dijk and Jordan Henderson speaking after the game highlight the clean sheet as important.
It could well be. If Liverpool can get a goal in Portugal then Porto will need four goals to put the reds out.
A good night for the reds
So Liverpool take the first leg advantage.
And now the focus turns to Chelsea at home - that's this coming Sunday at Anfield.
No new injuries from tonight - Shaqiri almost got on at the end, Gomez got his first squad appearance since injury and its a clean sheet even with a changed defence.
Happy days!
Thanks for joining us.